Kona Coffee Farmers Association
KCFA is an organization of coffee farmers, chartered to support the Kona coffee growers community and to promote and protect 100% Kona coffee.
Since 2006, KCFA has amplified the voices of independent Kona coffee growers on the issues most important to their success.
Benefits
KCFA works with the governor and the state legislature to promote clear, accurate package labeling. We guard against the dilution of Kona coffee by advocating for greater purity in Kona coffee blends and encourage regulation that is favorable to Kona coffee farmers, consumers, and the environment.
You also gain access to exclusive KCFA farming education, resources and marketing opportunities.
Types of Memberships
KCFA offers three memberships to include all stakeholders of the Kona coffee community. Voting Members are the core of KCFA and are comprised solely of Kona coffee farmers. Supporting Business and Associate Memberships are for non-farming entities and individuals important to the success of Kona coffee.
KCFA Seal Program
Qualified members of the KCFA who sell roasted 100% Kona Coffee are entitled to display the KCFA 100% Kona coffee seal on packaging, advertising and other applications. The seal assures consumers they are buying pure, authentic Kona coffee.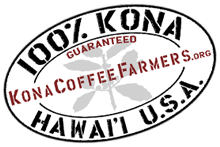 Join Us
Add your voice to those of other Kona coffee farmers and supporting businesses. Join our grower's community and further the shared interests of Kona coffee farmers. Our strength is our numbers!