The Independent Voice
Newsletter of the Kona Coffee Farmers Association                                                              September 2012 PO Box 5436 Kailua Kona Hawaii 96745 USA                                                              www.konacoffeefarmers.org       [email protected]
Contents:
CBB Workshop Report
Message from Luis Aristizábal
Legislative Update
Two Step BBQ
Safeway Boycott
Update AOPA
Making Change Jams/Jellies for Cultural festival
KFCA Coffee Label Shirt at the Olympics
Editor: Clare Wilson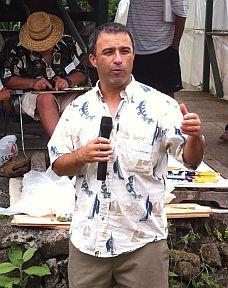 Two Day CBB Workshop featured Luis Aristizabal: lots of valuable hands-on information
Wondering if all that expensive fungus is effective?  Not sure if your traps are working?  We've all had a lot of questions since CBB was discovered two years ago.  KCFA went looking for answers.
KCFA collaborated to bring in Luis Aristizábal, a farmer-scientist originally from Colombia.  His two-day workshop on IPM was attended by 153 people.  His 14 farm visits put him in contact with another 70 people.  And during that time, many of us realized that we had opened the door to a more effective way of management. His "30 Trees" method of determining pest populations as well as bean damage showed us how to determine if the beetle was vulnerable to attack.   This knowledge will allow us to cut back our fungus spraying to only the most effective times.  If you missed it, this is the single most important piece of data we need to effectively treat for CBB.  Go get the info from the KCFA website.
In addition, he gave information on best practices elsewhere.  From cherry bags (poly bags within burlap) to acceptable levels of infestation in parchment (<5%) to milling safety.  We're condensing it all into an easy fact sheet that will be sent around in the near future. His complete materials are uploaded to the KCFA website. Other sponsors were Hawaii Community FCU, Kona County Farm Bureau, Kamehameha Schools and The Kohala Center.
Submitted by Suzanne Shriner
---

Thank you KCFA Member Suzanne Shriner for all of your diligent and excellent work on the Integrated Pest Management- Coffee Berry Borer Workshop.  Job WELL DONE and we're very proud to have you as a member!    
---
Message from Luis Aristizabal "I just want to thank the Kona Coffee Farmers Association and all the coffee farmers who attended the lectures, field practices, and workshop on Integrated Pest Management of Coffee Berry Borer, for giving me the opportunity to share with you some of my knowledge and experience in the IPM. I just want to say that the control of CBB is not an easy task. However, it is something impossible to do and control. I am quite sure that you can continue producing one of the best coffees in the world even with the presence of the CBB. The most important is to understand the biology, ecology, and behavior of this pest and apply it to Hawaii conditions. Also, try to improve all control alternatives that are available, specialty the recollection of ripe, overripe and dryberries as best as possible; the control during harvest and post-harvest, and finally supplemented by the use of the fungus Beaveria bassiana (only apply it when you have a chance to control high population of CBB) and the use of traps. Do not forget that assessment (% infestation of CBB) is more important tool to control the CBB. You need to know what is the population and where it is located in your coffee farm. (That's where you have to do more control). My son Juan and I personally thank you for all the attention. I hope to collaborate on everything in my power. Any questions gladly try to answer as soon as possible. Thank you."
Luis F. Aristizábal E-mail: [email protected]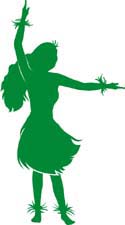 ---
Thanks so much to KCFA Member Christine Coleman for housing Dr. Luis Aristizabal and his son Juan for the entire time they were in Kona. That was true Hawaiian hospitality! Mahalo nui Christine and Buddha's Cup Farm.
---
Legislative Update 
Agricultural Theft:  On September 6, 2012, Hawaii County Deputy Prosecutor Mitch Roth and three members of the Hawaii County Police Department gave an educational presentation on preventing and prosecuting agricultural theft to more than two-dozen farmers in the CTAHR conference room. It was encouraging to learn that the police and the prosecutor's office have been working with farmers' market managers (and plan to work with coffee buyers) to try to cut off the primary avenues for the sale of stolen farm products.
With respect to HB1524 (relating to agricultural theft), Deputy Prosecutor Roth confirmed that under this newly enacted law it is a Class C Felony to transport agricultural commodities weighing more than 25 pounds or with a value of more than $100 without possessing a "certificate" which satisfies the detailed requirements of the new law.  The following information is required on the certificate:
Description and value of product.
Seller's (deliver's) name, home address, and telephone number.**
The license plate number of the delivery vehicle.
Farm owner's name, the address or TMK (preferred) of the farm.
Buyer's name, and/or your destination.
** A copy of the driver's license of the seller, or other government issued picture ID of seller.
Signature of the seller (or deliverer). Sign before you get on the road.
Date of sale or delivery.
Signature of buyer (or mill)
You may actually need 3 copies of the Certificate to go to the destination so that all can be signed by the buyer (or mill).
A copy for the farm owner to keep. Returned by the seller to the owner.
A copy for the seller to keep.
A copy for the buyer to keep.
If you as a driver are stopped by the police and you do not have the certificate, the officer has prima facie evidence that the products are stolen and you can be taken into custody and your product can be confiscated and your vehicle can be impounded.
Roth confirmed that the language of the law even applies to transport of agricultural commodities that do not involve a sale—for example, driving with 5 bags of parchment to a mill for hulling and then returning the green coffee to your farm.  His suggestion in this type of situation is that farmers at a minimum maintain a written log in the vehicle which includes the following information for each movement of agricultural commodities: date and destination; the name of the farm owner and farm address; description of the commodity, including the amount, value, and identity of the owner; license plate number of the vehicle; identity of the driver if other than the farm owner.
In testimony to the Legislature, the State Attorney General criticized HB1524 because of vague and undefined provisions and for not providing adequate notice of what constitutes criminal conduct.  But the bill is now law.  Even if the probability of prosecution may be small, farmers should be aware of the requirements of this law—and the potential penalties for violation. To read the provisions of HB1524, click here. http://www.capitol.hawaii.gov/session2012/bills/HB1524_SD2.htm
Submitted by Bruce Corker & Louise Hanna

---
Making Change, One Cherry at a Time Salone del Gusto Conference
When an opportunity is presented, it is important to put your best foot forward.  Thus the intention to attend the Terra Madre/Salone del gusto conference from October 25-29 in Turin, Italy.  The award granted Kona coffee two years ago will be passed on to the next recipient, and the opportunity is to continue to develop relationships as well as international awareness about Kona coffee.  We must support the recognition that is deserved around the world such as that provided for 100% Kona coffee through the award we received in 2010; and continue to seek working together with these people to ensure that the farmers/groups get the credit due.  We must attempt to return to those who granted the award and elaborate on the efforts in the last two years to help Kona coffee.
American Origin Products Association
Kona Coffee Farmers Association board members, Bruce Corker and Colehour Bondera, have worked with other US origin products to spearhead the formation of a national organization to help protect and promote origin products like 100% Kona Coffee.  With the ultimate goal to recognize and protect products of geographically designated places of origin, American Origin Products Association (AOPA) has been slowly filling the basket with ripe cherries.  Interacting with folks from around the country has included speaking from the experience of Kona coffee and pointing out that together the groups will have much better recognition.
Board members have spoken with representatives of groups working with different types of products as diverse as the range from pecans to potatoes to coffee, which were the products of the founding producer groups.  The hope is to raise awareness so that both citizens and visitors anywhere in the US will recognize the many American origin products, which now have only unspoken recognition.
Efforts toward the founding conference to be held on October 13, 2012 in Fayetteville, Arkansas, have gotten significant attention.  While work for better protection of Kona coffee continues in Hawaii at the state level, a number of Hawaii legislators seem to remain tied up in the interests of Honolulu businessmen.  For this reason, we must pursue our goals at other levels, and with a national advocacy organization, it is possible to pass federal legislation that would affect Hawaii laws on origin recognition and protection.
Furthermore, a broader group which provides advocacy and marketing of US origin products in the marketplace will put consumer pressure on those corporations producing inferior knock-offs of origin products. The US marketplace can also be educated by a group like this about efforts in the European Union and other places to create legal protocols on origin name use which include 3rd party inspection and specific processing protocols.
Towards this end, it is worth noting that AOPA has already expanded the board to include Roger Allbee of Vermont, who formally served as the Vermont Secretary of Agriculture.  This has broadened the range of contacts through Allbee's work at the state level and his numerous national and international relationships.  His experience as the Vermont Secretary of Agriculture brings valuable experience which is complimentary to the three AOPA founder groups.
Also attending the meeting will be representatives of oriGIn (in the form of Vice President Colehour Bondera), the European Union (from their Washington, DC office), Napa Valley vintners, California prunes, New Mexico chiles, Maine lobsters, Vermont maple syrup, and others. These attendees speak to the range of support and interests that are in place.  We will patiently carry forward the goal of, "Recognizing and Protecting Origin Products of the United States".
At the same time, we continue to communicate with other origin producers in Hawaii (like honey, taro, other coffees, Maui onions, etc.) as well as throughout the US, seeking to create a broader understanding of why to protect and promote origin products at home, the way it's being done worldwide, so we close in on beating the 10% blend fraud at home. Submitted by Colehour Bondera
---
BBQ at Two Step – Sunday, Sept. 23rd As we "fire-up" the grill for hot dogs, come meet and talk story with our new entomologist Robert Curtiss and our CTAHR agent Andrea Kawabata.  KCFA will provide hot dogs & buns and farmers are asked to bring a pot-luck luncheon dish to share with other fired up farmers.  Plenty talk story about CBB and other farming issues.  BBQ is from 12-4 p.m. at 2-step (City of Refuge) under the covered area with the picnic tables.  KCFA banners will be put up so we will be easy to find. Plenty of parking available. Bring your swim suits, snorkel gear and kayaks and have a fun family day with other KCFA farmers.
Please RSVP to Mary Lou Moss @[email protected] so we know how many "dogs" to buy and grill.
Directions:  To reach Two Step from Kailua-Kona, take Hwy 11 south to the Honaunau-Napoopoo area and turn right on City of Refuge Rd (Keala O Keawe Rd / Hwy 160). Then continue about 5 miles towards the ocean and turn right before the entrance to the Pu'uhonua o Honaunau Park. Follow the narrow road to just past the boat ramp. Submitted by Mary Lou Moss
---
Safeway Boycott Update
Last year, on July 19, 2011, KCFA called for a boycott of Safeway because of deceptive labeling of "Safeway Select Kona Blend" sold in Mainland stores.  Click here for KCFA's Safeway Resolution In September of last year, KCFA suspended its boycott after receiving the following written commitments from Safeway:
(1) that effective April 2012, Safeway would "add a new offering of Royal Kona Coffee (100%) in select California stores (Northern and Southern)"; and
(2) that by July 1, 2012, the Safeway Select Kona Blend coffee label would "be modified to reflect that the 'blend' coffee will contain a minimum of 10 percent Kona beans". Click here for Safeway's 8/31/2011 response] letter to the KCFA
From KCFA's observations in Mainland Safeway stores and from a series of communications between KCFA and Safeway over the past six weeks, it is clear that Safeway failed to fulfill either of these commitments.
With respect to the commitment to offer 100% Kona Coffee in select California stores by April, Safeway has acknowledged that it has not done so. The reason given for not meeting this commitment is that "our supplier, Lion Coffee, has notified us that they would not be able to provide the promised supply of Royal Kona due to an infestation of a parasite, the coffee berry borer."  Safeway has not explained why its supplier is able to supply Kona coffee for the "Blend", but is not able to supply Kona coffee for the promised 100% Kona.  Safeway has declined KCFA's offer to assist it in finding an alternate suppliers of 100% Kona Coffee.
With respect to the commitment that by July the Safeway Select Kona Blend labeling would "reflect" a minimum of 10% Kona beans, Safeway has written "that Safeway did, indeed, make the packaging changes that were agreed upon with KCFA."  However, between July 5 and August 26 KCFA members visited 6 different Safeway-owned stores in Northern and Southern California and in Washington State.  In all six of these stores none of the labels of Safeway Select Kona Blend stated the percentage of Kona-grown coffee in the package.
KCFA has asked Safeway to advise as to when it believes the Safeway Select Kona Blend labels on the shelves of the six stores we visited (and all other Safeway-owned stores) will "reflect" a minimum of 10 percent Kona-grown coffee.  No response to this request has yet been received.
If you travel to areas on the Mainland where there are Safeway or Von's stores or other stores carrying "Safeway Select" products, please check the shelves and let us know what you find on the Safeway Select Kona Blend labels. Submitted by Bruce Corker
---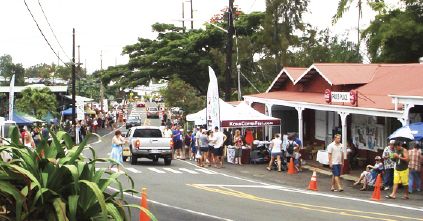 Jammin' for the Kona Coffee Cultural Festival
The Kona Coffee Cultural Festival will be Nov. 3-10 this year.  The Coffee & Art Stroll will be on Nov. 3 in Holualoa and KCFA NEEDS your jams & jellies to sell.  The jams & jellies always sell really well at the Coffee & Art Stroll.  As you put up your jams & jellies this year, please make a few extra to donate to KCFA .  If you have any other crafts or ideas for KCFA to sell during the Cultural Festival, please call Mary Lou Moss @ 329-4035. Because the Outrigger Hotel will be closing on Oct. 31, 20112, the Cultural Festival will be holding the cupping contest and other activities at the Sheraton. Submitted by Mary Lou Moss
---
The KCFA Coffee label Shirt Sighted at the Olympics! Peter, a resident of the United Kingdom who visited Kona 4 or 5 years ago and has been a loyal supporter of Kona coffee ever since, is shown in this photo proudly wearing the KCFA's coffee label shirt at the Olympics track and field venue in August in London. "Thank you Peter for helping to spread the reputation of 100% Kona coffee to our friends in Europe!" Submitted by Bruce Corker