Aloha and Welcome
KCFA is the voice of Kona Coffee Farmers and world headquarters for Kona coffee information and advocacy.
Read about our Mission
For Coffee Lovers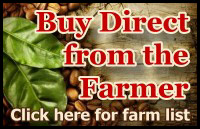 KCFA Farmer Members grow, process, and roast 100% Kona Coffee and produce many other products unique to Hawaii.
Buy 100% Kona coffee direct from KCFA farmers
. Buying direct ensures you get fresh, premium coffee every time! Visiting The Big Island?
Tour a Kona coffee farm
. Learn about growing, processing, and roasting the world's finest coffee. Some farms offer accommodations and meals for an all-encompassing experience.
For Coffee Farmers
KCFA is a non-profit 501 (c) 6 of organization of Kona coffee farmers, chartered to promote, protect and preserve Kona coffee and its heritage while seeking greater legal protection for the Kona coffee name. Members enjoy valuable resources, educational seminars, and support from an experienced community of Kona coffee farmers.
Member Benefits
Membership in the Kona Coffee Farmers Association supports the quality of 100% Kona Coffee and the heritage of the farmers that produce it.