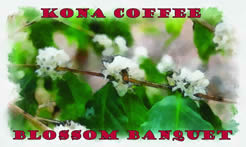 Message from President Cecelia B Smith
It's a date!
Gather your shekels and come to THE Annual Fundraiser of the Kona Coffee Farmers Association held Saturday, April 28, 5-9 pm at the beautifully renovated King Kamehameha Beach Hotel. The Kona Coffee Blossom Banquet is a time to chat with fellow farmers and other supporters, enjoy a scrumptious Hawaiian Buffet and bid on beautiful objects and intriguing  experiences- from Soil to Beer. And the end result- raise money so the KCFA can continue its good work. We have been very active this year in sending over to Honolulu superb KCFA representatives, multiple times, to protect our Kona Coffee interests in the State Legislature which is not an enviable job. Airfares cost money and these volunteers are giving their professional time for free. Lucky us! We'd also like to buy some audio visual equipment so we can have quality  educational presentations sponsored by the KCFA, without a technical learning curve – each time. We just need to raise money and that is why we need every Member's support at the Kona Coffee Blossom Banquet.
Tickets are available for $45 inclusive now, so go online to our KCFA STORE. Tickets will go fast!
See you there for a great evening with lots of aloha!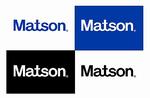 Mahalo nui – We sincerely thank each of our Corporate Sponsors for their generous donations to the Kona Coffee Blossom Banquet:
Matson Terminals, Kona Trans, HELCO and Horizon Lines.

Please support them when you can.
Volunteers Needed: Mary Lou Moss, our Kona Coffee Blossom Chair says:  Please help by emailing: [email protected] or calling 329-4035/896-4175. We need your valuable help with setting up auction items, collecting the auction items after the silent auction is over and people to help with the checking out/payment of items. Come join the fun at our annual Fundraiser!
aloha, Cea
---
Battling the Coffee Berry Borer
Sales of supplies to combat the coffee berry borer were excellent. Mahalo to Sandra Scarr for working so diligently on getting the products at a substantially lower cost. We also want to thank Alvin Sato/BEI for his helpful assistance. We had a great first run, and we have some left.
As of March 31, we have 6 quarts of Botanigard (Member price: $59 and Nonmember price: $60.50), we have 22 gallons of Eco-spreader (Member price: $106.85 and Nonmember price: $108.65 ) and we have 64 quarts of Mycotrol (Member price: $79 and Nonmember price: $81) in stock.
Please note: Members get a discount, so Login and then go to the Store. Help us to move it along as the KCFA has already paid for this, and we think you need it!
---

REMINDER
On Tuesday, April 17, 2012, the KCFA Monthly Board Meetings are moving…to the CTAHR Office in Kainaliu, mauka of the Aloha Theater. 4-5:30 pm. Members are welcome and encouraged to attend!
---
CBB Talk Story
Mark Your Calendars!
Tuesday, April 24, 2012- CTAHR (Kainaliu)- CBB "Talk Story"- 3:30-5pm. Led by Bob Smith, Andrea Kawabata and Suzanne Shriner. An informal gathering to exchange ideas on what is working, what is not working. What are farmers doing and what are farmers' results? A time to see if we can come up with any "Best Practices" from  actual experiences. Everyone is encouraged to attend.
---
LEGISLATIVE UPDATE
HB 280 (Repeal of Mandatory Coffee Inspection & Certification):
The Legislative Committee thanks all those who sent written testimony in  opposition to HB 280 for the March 13 hearing before the Senate Agriculture Committee.
There were 35 written testimonies submitted in opposition and 24 in support. Many of the testimonies in support were "form" letters—repeating exactly the suggested language sent out by Jim Wayman of Hawaii Coffee Company. KCFA Legislative Committee members Bruce Corker, Dave Case and Colehour Bondera traveled to Honolulu and gave in-person testimony urging the Legislature not to abandon the certification system put in place after the Kona Kai Coffee Counterfeiting Scandal of the mid-1990s. At the conclusion of the March 13 hearing, the extent of opposition testimony and the strength of opposition's arguments raised genuine concerns for Senator Clarence Nishihara, Chair of the Senate Agriculture Committee. He deferred a ruling on the bill for a week and encouraged the parties to see if an agreed position could be reached.
In response to Senator Nishihara's suggestion, Bruce, Dave and Colehour spent two and a quarter hours in a conference call with Jim Wayman on 3/15 and three-quarters of an hour in a conference call on 3/16 with Sen. Nishihara, Jim Wayman, Roger Kaiwi-Machen, and the HDOA's Jeri Kahana–all of whom were in the Senator's office in Honolulu. Despite these telephone discussions and hours of work by the KCFA to draft legislative provisions addressing their concerns with the current certification system, the Blenders/Processors continued to insist on a repeal of the mandatory system of inspection and certification by the HDOA that has been in place for more than a decade.
Despite an express finding in the Senate Agriculture Committee's report that "the grading and certification standards for Hawaii-grown green coffee are important for preserving the integrity of Hawaii's coffee industry and protecting consumers", the Committee bowed to the requests of the Blender/Processors and passed the bill on March 20—as did the Senate Ways and Means Committee on March 29.
At this point the only apparent step that will prevent the enactment of HB280 and a return to the days of Kona Kai would be a veto by the Governor. In coming days the Legislative Committee will be asking KCFA members to assist in urging the Governor to exercise his veto power in order to preserve the current system that provides some measure of protection for the integrity and quality of Hawaii-grown coffee.
"DOWN BLENDED COFFEE"
Because there are professional blenders of coffee that are very proud of their craft, the KCFA will now use the term "down blended coffee" when referring to the 10% Kona blends that do not tell of the other 90%.
---
Notes about the Strength of our Membership
Thank you all 293 (!) fully paid up to 2012 and beyond, KCFA Membership Chair, Louise Hanna wrote…
When we testify before the legislature: our membership numbers create our strength.
When we ask for CBB assistance from the Department of Ag or other government agencies: our membership numbers create our strength.
When we contract with wholesalers to buy direct the chemicals we need to fight the CBB: our participating members are our strength to lower the price.
When we share our farming experience: our individual members are our strength.
It has been a difficult two years for Kona Coffee Farmers; The Kona Coffee Farmers Association is here for you.
---
Membership!
KCFA is proud to be the LARGEST group of Kona Coffee Farmers bar none, more than 250 of whom are active farmers! Encourage your neighbors and friends to join in as a voice for the Kona Coffee Community online at konacoffeefarmers.org/join.asp or call 329-4035 and do it via the telephone.
---
Look for our Kona Coffee Blossom Banquet's Colored Display ads in the West Hawaii today on April 15th and 22nd.
West Hawaii Today is doing a 50/50 ad sponsor for us.
---
Getting Connected is…
Getting an UPDATE!
The total uploading of our new Kona Coffee Farmers Association website will be complete on May 1st. Using an open source program (WordPress), we're getting a freshly organized, crisp new venue. Same www.KonaCoffeeFarmers.org address, of course. The current website is almost 5 years old and boy(!) have things changed since then. All the same information will be available, in a slightly different format. Our BUY DIRECT FROM FARMER button is enlarged and in a more Obvious position. Our Buy Direct button was the original reason to have a website – for our Members to have direct contact with the public, selling their stuff. FYI-In March of 2012, we got 1226 "Farm Clicks", meaning 1226 different views of your Buy Direct listings, so keep them updated for your own sake. (To say nothing of the 31,023 OTHER page visits on the KCFA site recorded for March 2012!) The KCFA website has grown to include lots of extremely valuable information for our Farmers. Our original needs have expanded and we're keeping up with the times!
---
Letters
Letters to the editor are always encouraged. The following is a tongue-in-cheek testimony submittal.
Crooked Coffee Company
Beagle Boyz Lane, PO Box 242, Kealakekua, Hawaii 96750
Home of 100% Kona Coffee
(may be from Central or South America)
Dear Chairperson Oshiro and Members of the Committee, Thank you this opportunity to support HB280 this bill that will make our job so much easier. We at the Crooked Coffee Company think that that Kona is all hype and that there is coffee from central and South America that is just as good and really cheap. There are peasant down there that work for almost nothing, but they work hard and grow really good coffee and have been doing so for years before the first coffee tree was ever planted in Hawaii. We love that this a voluntary certification program. We are pretty good with Microsoft Word and can print all the certificates that you want and no more pesky State Inspectors to deal with. We have hired Michael from Kona Kai Coffee (he is out of jail) as a consultant so we can learn from his mistakes..
Do not worry about us bring in the coffee borer. We all ready did that so it will not be a problem. If other pests come in we do not care, because our coffee is not from Kona except in name. Forget about those Kona Coffee Farmers who are always complaining about blends and want 100% Kona Coffee. They do  understand that the real coffee business is in the blends in Honolulu. Honolulu is 90% of the coffee business and Kona is 10%. For being a bunch of retired, haole, yuppie Doctors and lawyers they are not very smart about the real world. You have to pay ($$$) to play.
This is perfect we can buy coffee for a dollar a pound and sell it for ten dollars a pound. We always remember who helps us and we want to help you. Although we do not have to do so (wink, wink) we want to support your good work and wisdom as our representatives. So just let us know where to send or campaign donations.
Yours (mostly) truly,
B. S. Burtiz, CEO
(Crooked Executive Officer)
[email protected]
Our motto: Kona Coffee (from where ever) — it has a buzz and is an okay cup of coffee
---
Upcoming EVENTS
Worker Protection Standard Workshop
Thursday, April 12, 2012
Location: CTAHR Kainaliu
5:30pm-7:30pm- Refreshments will be served!
Derek Shigematsu- Pesticide Application Instructor.
1.5 credits towards Pesticide Applicatiors License.
RSVP!
Call Didi (coordinator) at 887-6183 or email at [email protected] or, call Andrea Kawabata at 322-4894 or email at [email protected] to reserve a seat. Leave a message with your name and telephone number.