The Independent Voice
"Best Agricultural Newsletter in Hawaii"
Newsletter of the Kona Coffee Farmers Association  
 August 2017
PO Box 5436 Kailua Kona Hawaii 96745 USA
www.konacoffeefarmers.org      

[email protected]
Contents
Andrea's CBB Website Wins National Award
Major Problems Found in Plant Quarantine Audit
NRCS Program Funding Information
National Coffee Month
USDA Transportation Cost Reimbursement Program
Salute to Supporting Business Member: West Coast Seed Mill Supply Co.
Recipe: Brown Sugar and Coffee Barbeque Sauce
Write to Us
Editor – Clare Wilson
---
Andrea Kawabata's CBB Website Wins National Award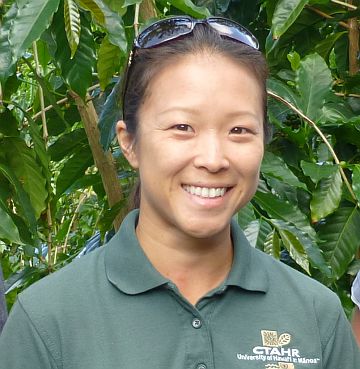 Andrea Kawabata, an assistant extension agent with UH CTAHR Cooperative Extension Service, has been awarded the National Association of County Agricultural Agents' Communications Award in Website and Online Content. The website she created, Hawaii Coffee http://hawaiicoffee.weebly.com/, is maintained by cooperative extension agents and staff, and provides coffee producers with crucial science-based information about the coffee berry borer and other insect pests and diseases of coffee.
Congratulation Andrea!
–Submitted by Suzanne Shriner
---
HDOA Plant Quarantine Audit Reveals Major Problems

This is an interesting read for us coffee farmers!  Of 34 mil tons of imported cargo only 2.5% get inspected for pests and diseases. And these minute inspections themselves are more than problematic. 
http://www.hawaiinewsnow.com/story/35871988/audit-plant-quarantine-inspectors-share-info-caveman-style-despite-pricey-database
–Submitted by Joaquin Oster

---

NRCS Announces Farm Bill Program Application Deadline


   Pacific Islands agricultural producers and forestry managers who want to address natural resources and increase environmental benefits are encouraged to sign up for the Environmental Quality Incentives Program (EQIP) or the Agricultural Management Assistance Program (AMA) through the USDA-Natural Resources Conservation Service (NRCS).
  Travis Thomason, PIA NRCS Director, announced that October 20, 2017 will be the application deadline in PIA.  "Producers can sign up for Farm Bill Programs at any time throughout the year, but to compete for the upcoming funding period, I encourage producers with resource concerns to submit an application by the application deadline," Thomason explains.
   Many applicants have shown interest in funding to address soil erosion and water quality issues on cropland.  However, there are also funding for addressing issues on grazing land operations, confined livestock operations, organic producers, and wildlife habitat improvements, just to name a few.
   Producers interested in EQIP or AMA should submit a signed application to the local NRCS field office or submit it electronically through the Conservation Client Gateway (www.nrcs.usda.gov/wps/portal/nrcs/main/national/cgate/). Applications submitted by October 20, 2017 will be evaluated by NRCS staff for funding. 
   Applicants must meet eligibility requirements in order to participate in EQIP or AMA.  NRCS field office staff will work with applicants to determine eligibility and answer ranking questions.  If an application is ranked high enough to be selected for funding, the applicant will work with the local NRCS field office staff to develop a contract.
   EQIP and AMA are voluntary conservation programs available for agricultural producers and forestry managers.  Through these programs, NRCS will provide financial and technical assistance to install conservation practices that reduce soil erosion and sedimentation, improve grazing lands, improve water and air quality, create wildlife habitat, improve forest health and more.  For more information on EQIP or AMA, contact the local NRCS field office or visit www.PIA.nrcs.usda.gov
–Submitted by Adam Reed, NRCS

---

National Coffee Month

   "A Special Month for Coffee" is the title of an article in the August 2017 edition of Costco's monthly magazine sent to customers.  The first paragraph of the article reads:
       "How do you celebrate a beverage that is consumed by more than half the population of the United States each day? You give it its own special month, National Coffee Month, in August."
    This article, however, does not explain who gave coffee its own special month.  Nor does an internet search provide an answer. There are a number of postings urging the celebration of coffee during August, but it is unclear how and by whom the designation was made. One internet posting observes:
       "Our research did not find the creator, or the origin of this [Month]. We did however find that this holiday has been celebrated for many years. There is plenty of documentation to support that National Coffee Month does indeed exist but we don't know by who or why.
        This holiday is referred to as "National".  However, we did not find any congressional records or presidential proclamations. Even though we didn't, this is still a holiday that is publicized to celebrate. So have fun with it and celebrate it!"
     Wikipedia does not have an entry of "National Coffee Month", but it does have an article that gives September 29 as "National Coffee Day" for the United States and 21 other countries.  Again, the origin of the designation is unclear.
    Whatever the source, we should join the celebration and urge coffee appreciators everywhere to drink many cups of 100% Kona Coffee during the month of August and do the same again on September 29.  Then the wonderfully addictive qualities of Kona Coffee will take care of the rest of the year—with undertones of waving palm trees and sparkling beaches in every sip.
 –Submitted by Bruce Corker

---

USDA Transportation Cost Reimbursement Program

The USDA announces signup for reimbursement transportation cost payment program (RTCP).  Hawaii farmers are eligible for the RTCP, which provides reimbursement for a portion of transportation costs that are incurred under basic farm activities.  This includes fuel to fertilize to any product that gets shipped here by boat.  Sign up by September 8, 2017.   Don't be late.  Turn In Payment documentation by November 3, 2017.  For more information, contact Lester at the USDA Farm Service Agency in Hilo at [email protected] or 808-933-8341.  More info here https://www.fsa.usda.gov/programs-and-services/price-support/RTCP-Program/index
–Submitted by Suzanne Shriner 

---

 

Salute to KCFA Business Member – West Coast Seed Mill Supply Co.

 
"West Coast Seed Mill Supply Company specializes in the sale and distribution of equipment used to process, handle, store and package products.  Equipment related to the coffee industry includes conveyers, gravity separators, color sorters, and packaging equipment".
Check out their website:  https://wcsmsc.com/west-coast-seed-mill-supply-company/  for contact information.
The company is an affiliate of West Coast Companies, a veteran, family-owned and operated corporation based in Salem, Oregon that specializes in the sale and distribution of processing, handling, packaging, and storage equipment across the Western United States and Hawaii.  With locations in Oregon, Idaho and Montana, our teams are committed to creating custom solutions for all of our commodities clients."
West Coast Seed Mill Supply Co. has been a supporting KCFA member since 2012. Please support them as you are designing or upgrading your processing area.
---
Recipe: Brown Sugar and Coffee Barbeque Sauce
 From Epicurios.com
 
Yield: 4 cups
Ingredients
2 tablespoons olive oil

1 3/4 cups chopped white onions

6 garlic cloves, chopped

2 tablespoons minced seeded jalapeño chile

1/2 cup (packed) dark brown sugar

2 tablespoons chili powder

2 tablespoons mild-flavored (light) molasses

2 tablespoons chopped fresh cilantro

1 teaspoon ground cumin

1 28-ounce can crushed tomatoes with added puree

1 cup low-salt chicken broth

1 cup freshly brewed strong coffee or 1 tablespoon instant espresso powder dissolved in 1 cup hot water
Preparation
Heat oil in heavy large saucepan over medium-high heat. Add onions, garlic, and jalapeño; sauté until onions are tender, about 7 minutes. Add brown sugar, chili powder, molasses, cilantro, and cumin; stir until sugar dissolves. Stir in crushed tomatoes with puree, broth, and coffee; bring to boil. Reduce heat and simmer uncovered until sauce thickens slightly and is reduced to 4 cups, stirring often, about 35 minutes. Season sauce to taste with salt and pepper. DO AHEAD: Can be made 1 week ahead. Cover and chill.
LET US KNOW WHAT YOU THINK! >> Write us. We welcome Letters to the Editor up to 150 words. We reserve the right to edit for clarity and length.  Include your name and email address >> Email: [email protected] with SUBJECT: Commentary.