The Independent Voice
"Best Agricultural Newsletter in Hawaii"
Newsletter of the Kona Coffee Farmers Association  
                    December 2022
PO Box 5436 Kailua Kona Hawaii 96745 USA
www.konacoffeefarmers.org  [email protected]
Contents
Kona Coffee Farmers Face Big Challenges
10% Discount at Captain Cook NAPA
What are Peaberry Coffee Beans?
Worldwide Macadamia Market Goes Nuts
Is French Press Coffee Bad for you?
The Argument for a Dirty Cup
KCFA at the Holualoa Coffee & Art Stroll
High Tech Pest Control
How to Roast Coffee in a Popcorn Popper
KCFA Seeks Board Member Nominations
Join KCFA
CBB/CLR Pesticide Subsidy
Weekly Coffee News
Turn Old Bread and Spent Coffee into Pudding
Salute to Business Member – Artisan21
Recipe –Coffee Barbecue Sauce
Editor – Clare Wilson
---
Kona Coffee Farmers Face Big Challenges

https://www.comunicaffe.com/kona-coffee-growers-are-facing-big-challenges/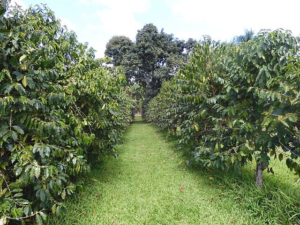 "HOLUALOA, HAWAII, USA – Kona coffee farmers are facing big challenges this year. In a recent e-mail to members, industry group Kona Coffee Farmers Association (KFCA) reported that the "Hawaiʻi coffee industry is bracing for what could be one of their worst years for production. That will likely mean higher prices for coffee drinkers as well."
For the 2022/2023 harvest season, Kona coffee yields are anticipated to precipitously drop by as much as 30% -40%. What key factors are contributing to this decrease?…"
ed note: Steve and Joanie Wynn are KCFA Farmer Members
---
10% Membership Discount at Captain Cook NAPA Store!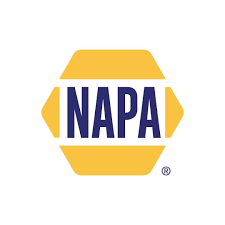 KCFA Members can now get a 10% discount at the NAPA store in Captain Cook by showing your Membership Card. The card can be printed from the KFCA website.To get your Membership card> Login to your KCFA account https://konacoffeefarmers.org/login/ and once there, look to the right panel and click on Membership card and follow directions.
–Submitted by Carolyn Witcover
---
What are Peaberry Coffee Beans?
The Myths & The Reality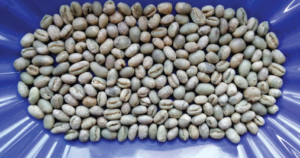 "Peaberries are intriguing. Their name alone is eye-catching. They're also considered to have a superior cup profile compared to regular coffee beans.
But is this myth something to be believed? We're going to explore the world of peaberry coffee and discover what they are, whether they're special, and how to roast them.
WHAT IS A PEABERRY & HOW DOES IT FORM?
Inside a regular coffee cherry with no defects, you're expected to find two seeds, with their flat fronts facing inwards, and their round backs facing outwards. The seeds of the coffee cherry are what is removed, processed, and roasted for consumers to enjoy i.e. coffee "beans".
Peaberries are estimated to make up to around 5–10% of a harvest. They occur as a result of a natural mutation, or defect, inside a coffee cherry, where one ovule fails to pollinate. This results in extra space for the single developing seed. Within this space, a larger and rounder seed grows inside. This is a Peaberry…"
---
Worldwide Macadamia Market Goes Nuts
https://www.civilbeat.org/2022/11/hawaii-farmers-struggle-as-worldwide-macadamia-market-goes-nuts/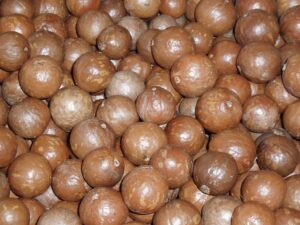 While our local macadamia farmers are desperate to find processors to buy their macadamia nuts, local store shelves are fully stocked with Hawaiian Host and Mauna Loa brand macnuts which were imported from other countries.
From Civil Beat:
"Millions of pounds of macadamia nuts are on the ground and won't be harvested this year," said Brad Nelson, director of the Macadamia Growers of Hawaii.
"Compounding the challenge for local growers, Nelson said, is that China is stepping up to produce mac nuts on a large scale, joining Australia, South Africa and Kenya as a major player – and one that can undercut Hawaii on price…"
---
Uh … Is French Press Coffee Bad for You?
Here's What Research Shows
https://coffeetalk.com/daily-dose/top-news/10-2022/93783/
"Let's be honest—most of us aren't drinking coffee for its array of health benefits (though the beverage is packed with antioxidants, in case you were wondering If you're a daily coffee consumer, you're more likely after the much-needed energy boost or the delicious flavor.
However, if you're serious about maximizing the health benefits of your morning brew, pay attention: On a recent episode of the mindbodygreen podcast, metabolic health expert Alexis Cowan, Ph.D., shared a tip that neither you nor we had heard before. Her advice? You should probably stick to a filtered brew…"
---
The Argument for a Dirty Cup
https://www.coffeegeek.com/techniques/the-argument-for-a-dirty-cup/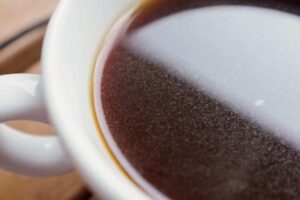 "For as long as I've been into high end coffee, the mantra around pour over is "a clean cup". Everyone's obsessed with a clean cup. "Oh, that grinder throws off too many fines, results in a dirty cup". "This tastes exceptionally clean!".
I admit I don't quite get it.
I grew up with press pot coffee. My Dad, bless his soul, brewed a coffee with a press pot every single morning since I was born, using a cheap Braun grinder to get big pebbles for his morning fix…"
---
Beautiful Day at the Kona Coffee Festival Coffee & Art Stroll in Holualoa


photo courtesy of Una Greenway
Saturday, November 5th was a bright and beautiful day in Holualoa.  The crowds were heavy, the joy at being outdoors was palpable and buying was on their minds.
Your Kona Coffee Farmers Association had one of its best days ever at the Stroll.  We took in almost $2,100 and sold lots of good coffee merchandise, including some outstanding jewelry items from Pat Pearlman. The jewelry features actual coffee bean shapes molded from real beans and then cast in silver and other lovely materials.  We sold lots of shirts, caps and mugs.  We sold bags in various shapes – burlap bags for holding coffee beans or for use as decorations and sling bags for the accomplished shopper.
The KCFA booth would not have been possible without the dedicated support and work of our volunteers.  A big Mahalo to Judy Shuster, Una Greenaway, Sammi Piasecki, Ronnie Ashbach, Tony Tate, Franz Weber, Carolyn Witcover, Mark and Polly Petersen!  Una Greenaway, Franz Weber, Carolyn  Witcover and Mark Petersen are members of the KCFA board of directors and took time to be there helping as volunteers.
It was a great team and they all made short work of setting up and tearing down, while having a great day of interacting with all the folks who wandered by our booth to peruse the merchandise and buy a bunch.  Our booth was set up in front of the old library building, right in the center of Holualoa.  Thanks to our volunteers and all our customers!
Teamwork, a beautiful day, great merchandise – it all came together to make for a successful day for your Kona Coffee Farmers Association.
–Submitted by Jim Monk
---
High Tech Pest Control
https://www.smithsonianmag.com/history/sweet-sticky-history-the-date-180980983/
Buried deep in a Smithsonian magazine article about date palms, there is some interesting information about chemical free methods of detecting and eliminating pests of date palms, in particular the red palm weevil.
"…a contraption devised by Italian scientists called the EcoPalm ring, which looks like a giant metal dog collar but is actually a circular microwave. " It cooks the weevils that are inside the palm.
"A weevil sensor manufactured by an Israeli company, has already been drilled into thousands of trees in the UAE and Morocco… The sensor picks up the vibrations of weevil larvae and sends a signal to an app installed in the farmer's smartphone."
---
How to Roast Coffee with a Popcorn Popper
https://www.coffeegeek.com/guides/popperroasting/
"Beyond getting my first fairly decent espresso machine (a Krups Novo Compact), my first real introduction into how good coffee could be has to be the day I discovered I could home roast with nothing more than green coffee, a hot air popcorn popper, and a metal colander.
I'm not talking a small jump here — I'm talking a quantum leap in discovering just how good coffee could be — and it wasn't just in the taste improvements. Home roasting gave me for the first time a genuine insight into what goes into coffee…"
Ed. note:  be sure to scroll down the entire page. Lots and lots of info by Mark Prince, the original Coffeegeek
---
KCFA Seeks Board Member Nominations

Would you be willing to serve on the KCFA Board? We are seeking nominations to support 100% Kona coffee and its farmers. Our meetings are once a month and they are a combination of in-person and zoom virtual meetings. Please consider helping in any way you can.  Board members may serve on committees such as farmer education, promotions, grants, or social activities.  If you are interested in becoming a Board member or nominating someone, please contact [email protected].
---
Join KCFA
If you like reading our newsletter, support KCFA by becoming a member at konacoffeefarmers.org.
KCFA offers three memberships to include all stakeholders of the Kona coffee community. Kona coffee farmer members are the core of KCFA. Supporting Businesses and Kona coffee enthusiasts memberships are for non-farming entities and individuals important to the success of Kona coffee.
---
CBB/CLR Pesticide Subsidy
COFFEE FARMERS: LAST CHANCE to take advantage of the HDOA CBB-CLR Pesticide Subsidy to get 50% back on your receipts for sprays. First come, first serve as the funding lasts, but you must have completed your application by June 1, 2023. Yes! We are reimbursing Coffee Leaf Rust spray products on our approved list!! We are reimbursing receipts from July 1, 2021 – June 30, 2022
and we'll help you complete it as your prefer: online, by email, by snailmail, or in person. If you've never used the program before, we will also request your GET#, FEIN#/SS#, and drivers license. Please contact Melanie Bondera at [email protected] or 808-323-7578 with questions. Coffee Farmers are all seeing the yield and profit loss in the current harvest from last year's bad round of CLR. Please take advantage of this last round of the Subsidy to help ease farm finances.
Melanie Bondera
CBB-CLR Subsidy Program
Hawaii Department of Agriculture
Phone: 808-323-7578
Physical address:
82-6130 Mamalahoa Hwy, Room # 7
Captain Cook, HI 96704
---
Weekly Coffee News: A Hoops Fundraiser, SCA Election Updates and More
Welcome to DCN's Weekly Coffee News! Keep up with all the latest stories by subscribing to DCN's twice-weekly newsletter , featuring breaking coffee industry news and fresh coffee job listings.
_______________________________________________________________________
How to Turn Old Bread and Spent Coffee into a Lavish Pudding– Recipe
https://coffeetalk.com/daily-dose/top-news/11-2022/95686/
"When the renowned chocolatier William Curley dined at our restaurant Poco in Bristol, we prepared a chocolate feast consisting of a pain perdu made with stale bread and served with copious amounts of chocolate sauce. At Poco, we serve whole-grain sourdough, and its malty flavor pairs surprisingly well with chocolate. I've boosted the flavor of the chocolate custard by adding a teaspoon of spent coffee grounds, which are an unexpectedly useful byproduct rich in aroma, flavor, and caffeine; I like to sneak them into recipes whenever I can.
Pain perdu served with chocolate and espresso
In a country where bread is served with almost every meal, acquiring a taste for wholemeal bread is highly recommended, not least because it is filling, flavorful, and packed with nutrients. This dish works best with day-old and even stale bread, and works with any type of bread, really, including plain white, rye and even sourdough…"
---
Salute to Business Member – Artisan 21

Artisan 21 is a Hawaii based private label manufacturer, specializing in sourcing, roasting, packaging & distributing single serve coffees from Hawaii and the rest of the world. By evaluating new technologies, equipment and digital systems from around the world, they proudly offer a single serve specialty coffee solution that is convenient and environmentally friendly. As a small, locally owned business, they are the first company in Hawaii to have a Japanese engineered, coffee material packing machine that allows them to make convenient, pre-measured single serve coffee in both the pour over & cold brew, brewing styles. They support KCFA however they can. For more information, contact Ryan Matsumoto at www.artisan21mfg.com or Email: [email protected]
Phone: 808 765 2015
Please support our Business Members. They support us.
–Submitted by KCFA Membership Committee
---
Recipe – Coffee Barbecue Sauce
Ingredients:
1 cup double strength coffee
1½ cups catsup
½ cup Worcestershire sauce
½ cup dark brown sugar
1/3 cup cider vinegar
1 tsp crushed garlic
1 tsp chili powder
Combine all ingredients and simmer for 5 minutes
---
Recipes Wanted! If any of you have recipes that you would like to share, please submit them to the editor: [email protected]
LET US KNOW WHAT YOU THINK! >> Write to us. We welcome Letters to the Editor up to 150 words. We reserve the right to edit for clarity and length.  Include your name and email address >> Email: [email protected] with SUBJECT: Commentary.
Suggestion Box
Let us know what you would like to see in our newsletter. Suggestions on what to include or not. What could we do better. Let us know. [email protected]