The Independent Voice
Newsletter of the Kona Coffee Farmers Association   July 2013
PO Box 5436 Kailua Kona Hawaii 96745 USA   www.konacoffeefarmers.org [email protected] 
---
Contents
Legislative Update
Bill 79 (GMO) Testimony
Interesting Contradiction
Coffee Talk
Black Twig Borer
Recipe – Lamb Chops/Kona Coffee Rub
EDITOR: Clare Wilson
LEGISLATIVE UPDATE – 
Hawaii County Council Bill 79 (GMO Ban):
At its June 18 meeting the KCFA Board of Directors adopted a resolution in support of Bill 79. This measure has been introduced by County Council Member Margaret Wille and would prohibit the cultivation of most GMO (Genetically Modified Organism) crops in Hawaii County.  The threat of economic damages to Kona Coffee posed by potential GMO contamination has been dramatically illustrated by the decision of Japan last month to bar shipments of white wheat from the US after GMO contaminated white wheat was found on a farm in Oregon.  If Kona Coffee were to be contaminated with GMO genes through cross-pollination or otherwise, we would be at risk of losing Japanese and European markets for our crop.  If this were to happen, the adverse economic impact on Kona Coffee farmers would be devastating.
HB353 (Emergency CBB Research & Mitigation Funding):  
Governor Abercrombie signed HB353 into law on June 28.  This new law is disappointing and demonstrates that even after 3 years since the discovery of CBB in Hawaii County, the Legislature, the Hawaii Department of Agriculture, and the Abercrombie Administration still are not treating CBB as an emergency that threatens the economic viability of Kona and other Hawaii-grown coffees.  The final version of the bill reduced the appropriation of $1.33 million written into the original bill by Kona Representative Nicole Lowen to $800,000–a 40% reduction.  However, even this reduced amount is conditioned on dollar-for-dollar matching funds from private or other governmental sources. If no "matching funds" are found, none of the appropriated money will actually be spent.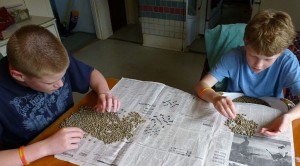 photo of summer visitors sorting out the CBB damage
Federal Farm Bill and USDA Appropriations:

Hawaii's US Congressional delegation (particularly Sen. Hirono and Rep. Gabbard) have been working–and continue to work–to secure additional CBB research and mitigation monies to be used by the Pacific Basin Agricultural Research Center (PBARC) in Hilo and by other USDA programs. Sen. Hirono introduced an amendment to the Farm Bill that would have provided for $2 million in each of the fiscal years from 2014 through 2018. However, with the rejection of the Farm Bill by the House of Representatives, there is now uncertainty on a whole range of agriculture-related issues—including additional funding for CBB research and mitigation programs.
Submitted by the Legislative Committee

---
Hawaii County Council Bill 79 Testimony

On the behalf of KCFA, at the very end (5:50pm; second to last of all received), Colehour Bondera provided testimony to the County Council in support of Bill 79 which restricts GMOs on Hawaii Island. This was at the end of a long day on July 2 listening to testimony from all around the island.
It was an overwhelming response from the Hawai¹i community around the island — over 400 people signed up to testify in the Waimea, Hilo, Puna, Oceanview, and Kona offices. The public hearing will continue at the same places, until complete. During the process, any individuals who still would like to testify can and should go to the location and sign up.
While the significant majority (over 90%) of testifiers were in support of Bill 79, testimony will be received until complete so all views are heard.
At that time the County Council will be able to discuss the subject and the testimony received before the County Council vote.
A few opponents to Bill 79 have suggested that a task force be formed to discuss the topic, and remaining testifiers should suggest that the County Council should establish an implementation task force after Bill 79 is passed!
Remember that coffee farmers make up more than 10% of the farmers in the state and Kona coffee farmers are close to 20% of farms on Hawaii Island.
Our voices need to be listened to and our position regarding GMOs must be recognized!
Submitted by Colehour Bondera
---
DISAGREEMENT IN THE BLENDER'S CORPORATE FAMILY?!?
A KCFA member recently sent information showing starkly different views as to the marketing of "10% Kona Blends" among the corporate family of Honolulu's largest coffee blender.
THE CORPORATE FAMILY:
Los Angeles–based Topa Enterprises is one of the nation's largest corporate conglomerates and is the owner of Paradise Beverages, Inc.  Paradise Beverages is Hawaii's largest distributor of alcoholic beverages and is the owner of Hawaii Coffee Company.  Hawaii Coffee Company is the Honolulu-based coffee marketer that sells Royal Kona and Lion Coffee brands and is the largest seller of "10% Kona Blends".  Paradise Beverages also owns the trade name and website for Koa Coffee Plantation, a marketer of 100% Kona Coffee headquartered in Captain Cook. [Note:  For an interesting review of the many coffee-related trademarks registered and held by Paradise Beverages go to http://hbe.ehawaii.gov/documents/business.html?fileNumber=3941D1&view=tradenames ]
 THE DISAGREEMENT:
The Dark Side:  Hawaii Coffee Company (owned by Paradise Beverages/Topa Enterprises) sells more "10% Kona Coffee Blends" than any other coffee marketer in the world. The packaging of these "blends" prominently and repeatedly uses the word "Kona".  Nowhere on the packages does it expressly indicate that 90% of the contents is foreign-grown coffee nor does it identify the origin of that non-Kona-grown coffee. Each time consumers purchase these packages with the belief that they contain "Kona Coffee" and are disappointed by the taste, the reputation of the genuine article (real Kona Coffee) is damaged.  Although Hawaii is the only region anywhere in the world that authorizes the use of the name of one of its specialty agricultural crops on packages with only 10% genuine content, Hawaii Coffee Company and its economic allies consistently oppose and testify against any legislative measure that would bring Hawaii into alignment with fair marketing principles by increasing the minimum blend percentage or requiring disclosure of where the 90% non-Kona in the package was grown.
The Ethical Side:  By contrast, Koa Coffee Plantation (also owned by Paradise Beverages/Topa Enterprises) states on its website  http://www.koacoffee.com/index.html :
"Kona Blends – Did You Know?
If you've tried a "Kona Blend" from your grocery store, you haven't tried the real thing. By law, Kona "blends" can contain as little as 10% pure Kona coffee. And while many Kona blends are good, they aren't pure Kona. Our Kona coffee is 100% Kona. As Forbes said, 'Koa Plantation is the real thing.'"
In this statement from its home page, Koa Coffee Plantation clearly indicates to consumers that 10% blends are NOT THE REAL THING.
The Forbes article, to which Koa's website repeatedly refers, makes the point every bit as forcefully:
"BEST COFFEE: KOA PLANTATION.  Saying you've had a bad cup of Kona coffee is like saying you've seen snow in the Caribbean. This stuff is wonderfully smooth and its lack of a bitter aftertaste makes you think nothing of having that second cup…or third. Just don't get fooled into buying "Kona blends" that sometimes combine the price tag of the real thing with less than stellar-quality beans from other sources. The genuine article is grown on the Big Island, home of volcanic soil, high elevation and abundant morning sunshine…"
Koa's message to consumers is clear—don't be "fooled" into buying "Kona Blends"; buy the real thing.
THE RESOLUTION:  We applaud Koa Coffee Plantation's message.  We hope that the corporate family disagreement will be resolved with Koa's example of ethical marketing showing the way to the rest of the family.
Submitted by the Branding Committee
---
COFFEE TALK, JUNE 8, 2013 – VERTICAL SELECTION
Approximately 25 people attended the Coffee Talk on Vertical Selection, given by Bob Smith at KCFA Board Member, Anita Kelleher's farm in North Kona. It was a beautiful day. For the first time, the KCFA asked participants, names not required, to fill out Evaluation forms for comments on the Vertical Selection Workshop and to offer suggestions on future Coffee Talk workshops:
(Anita Kelleher; Bob Smith in background)
"I want to learn about rust before it gets here"
"Bob's the best"
"Restarting an abandoned farm"
"very good all over"
"Ants and fertilizer"
"It may be a good idea for us to explore some general themes in farm safety.
"Comprehensive workshop on the yearly cycle of a farm for beginners- like a talk story. When to prune, how long to wait to sucker, how many selections…"
"Fertilizer, soil analysis"
"CBB, Types of prevention, Different Methods to apply Botanigard and Sprayers"
"thanks for taking the time to do this presentation!!"
"Tour of Amy Greenwell Ethnobotanical Garden in Captain Cook"
"Great trees"
"mahalo!!"
"well done"
Thank you participants. Suggestions for Coffee Talk are encouraged from KCFA Members and can be emailed to: [email protected] with the <subject> Coffee Talk. Mahalo.
Submitted by the Education Committee
---
Black Twig Borer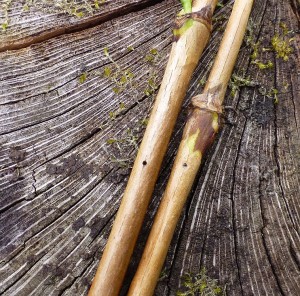 Bob Smith has noticed that the Black Twig Borer is especially high on his farm (Honaunau mauka, about 1900 foot elevation) and that of his neighbors. If any fellow farmers have made the same observation for this year, please contact Bob Smith at [email protected] and to see if we can  get something going.
Picture to the right shows the tiny hole where the black twig borer has entered the coffee branch.
Submitted by the Pest and Disease Committee
---
ROASTED LAMB CHOPS WITH KONA COFFEE HOISIN GLAZE
AND TOASTED COCONUT
Winner Kona Coffee Festival
Sous Chef Arthur Mangayayam – Outrigger Keauhou Beach Resort
Roasted Lamb Chops – Serves 4
2 racks of lamb trimmed and cut into chops
1 cup olive oil
Kaiulani Spices, Original Kona Coffee Rub and seasoning (to taste)
1 bag toasted coconut
Kona Coffee Hoisin Glaze (recipe to follow)
Place lamb chops on a half sheet pan. Brush chops with olive oil on both sides.
Lightly season with Kona Coffee Rub on both sides, cover and refrigerate Cook on charcoal grill how you like them or pan sear and then roast in 350 degree oven 5-7 minutes for medium rare
Remove lamb chops from heat and glaze with Kona Coffee Glaze, top with toasted coconut
Kona Coffee Hoisin Glaze – yield: 6 cups
1 1/2 cups Hoisin sauce
1/2 cup finely chopped mint
1/4 cup finely chopped lemongrass
1tbsp. Chinese five -spice powder
1 tbsp. honey
3 tbsp. brown sugar
1/2 cup finely chopped cilantro
3 cups of Kona coffee brewed
For the glaze, add all in gradients into a sauce pot. Bring to a boil and simmer for 10 minutes. Remove from heat and cool. Leftover glaze can be stored for future use in the refrigerator