The Independent Voice
     "Best Agricultural Newsletter in Hawaii"
Newsletter of the Kona Coffee Farmers Association  
                         June 2023
PO Box 5436 Kailua Kona Hawaii 96745 USA
www.konacoffeefarmers.org    [email protected]
Contents
President's Message
Chainsaw & Mist Blower maintenance & Troubleshooting
Harnessing AI for Crop Problem Identification
Micro-Grant Program for Small Scale Agriculture
USDA Extends Deadline for Revenue Loss Programs
Coffee, Brought to You by Bees
Coffee Researchers Prepare to Unleash Wasps
Soils & Soil Fertility Workshop
How Does Coffee Packaging Preserve Aroma
World Coffee Research News
Peace Corps Service Leads to Cascara Business
Why Cold Brew has More Caffeine then Iced Coffee
UKERS 2023 Entries Open Now
Green Coffee Beans Need Proper Storage
Waikiki Toboggan
Salute to Business Member – Africa Coffee Bureau
Editor – Clare Wilson President's Message:
---
Aloha Coffee Farmers,
It has been nice to get away from the limitations due to Covid. One of the concerns was meeting in person. Your KCFA did not hold any in person events until the Symposium held in February 2023. In following our breakout with that symposium, we will be sponsoring an educational event on June 9 at the CTAHR office on Chain Saw and Mist Blower Maintenance.
The education committee is planning more events this year so please be looking for the dates.
In addition, your Board has started a Strategic Planning Process to focus our priorities on how to best support Kona Coffee. We need your ideas to develop a meaningful plan. You will be invited early in July to participate in a focus group discussion. We would like to hear from members what they think the critical priorities should be for the Association.
Hope your coffee trees are looking good.
Mark Petersen, KCFA President
---
Workshop: Chainsaw & Mist Blower Maintenance & Troubleshooting
When – Friday, June 09, 2023 · 9 – 11am HST
Where – UH CTAHR Extension Office 79-7381 Mamalahoa Hwy Across from Aloha Theatre Kainaliu, HI 96750
Join KCFA on Friday, June 09, 2023 from 9:00 – 11:00 AM for CHAINSAW and MIST BLOWER MAINTENANCE AND TROUBLESHOOTING. Tony Savarese with All Tool will talk to us about routine care of equipment and common problems. He will also demonstrate how to sharpen a chain. Best of all, Tony is ready to answer all of your questions!
Serving the Island of Hawaii since 2008, All Tool provides outdoor power equipment tools that work and the service and parts to keep them working. All Tool provides sales, repair, and rental on blowers, cement mixers, chainsaws, chippers, generators, hedgers, pressure washers, weed-eaters, and more. Conveniently located in Kona's Old Industrial Area, the business is open weekdays from 8-4.    Tel: # (808) 329-3510
FREE to KCFA Members, $15 for non-members, pay at the door. Seating is limited so please RSVP.
Organized by
Kona Coffee Farmers Association
PLEASE NOTE! The focus group meeting on strategic planning which was scheduled to follow the workshop on June 9 has been cancelled. We will announce another date for this meeting in the near future.
---
Harnessing AI to Accelerate Crop Problem Identification
The incorporation of cutting-edge technology in ag-tech marks the latest evolution of the local startup Smart Yields
HONOLULU (May 16, 2023) – Hawaii-based agriculture technology company Smart Yields and Pacific Basin Agricultural Research Center (PBARC) in Hilo were selected as one of only five teams nationwide to receive a USDA innovation grant focused on artificial intelligence (AI) and machine learning (ML).
The proposal—pitching a "CoffeeMD" computer vision platform that can rapidly identify damage from coffee pests, diseases, and nutrient deficiencies—earned $100,000 AI Innovation Fund, under the USDA's Agriculture Research Service (ARS).  "Coffee is the second most valuable agricultural commodity in Hawaii, but with more than 1,000 coffee farms statewide and only one extension agent, our ability to help farmers on-site is limited," said USDA-ARS Research Biologist Melissa Johnson, who will serve as the AI/ML project's principal investigator from the Daniel K. Inouye US Pacific Basin Agricultural Research Center (PBARC). "An urgent need exists for growers to be able to rapidly identify issues in their fields without deploying an agent or having to search through lengthy documents online."
"Machine learning and computer vision approaches will provide for automated identification of damage caused by coffee pests and diseases, as well as nutrient deficiencies and toxicities," Johnson continues. "We will work with a variety of partners and capitalize on the USDA SCINet to build an expert-curated library comprising thousands of images that will be used to train a neural network that can support farmers in the field."
"Artificial intelligence has recently captured the public's imagination as new, generative large language models are poised to transform every sector of business," said Smart Yields CEO Ryan Ozawa. "But the machine learning models we will be deploying are time-tested, proven tools that could someday diagnose plant problems faster and more accurately than humans—the most limited resource in a global push to revitalize farming as both an economic engine and a critical part of community sustainability."
Other partners include the Synergistic Hawaii Agriculture Council (SHAC). "We have been working with Smart Yields and PBARC for years to bolster the resources available to Hawaii farmers, strengthening their businesses and nurturing their passion for growing," said SHAC administrator Suzanne Shriner. "This partnership will hopefully lead to even greater opportunities and advancement for Hawaii's critical agriculture industry."  SHAC will serve as the logistics and fiscal coordinator for the "CoffeeMD" AI/ML project, and will assist Smart Yields and PBARC in leveraging the pilot to spark broader ag-tech adoption in Hawaii.
---
 Micro-Grant Program for Small Scale Agriculture Now Open

The Hawai'i Department of Agriculture (HDOA) is now accepting applications for the popular Micro-Grant for Food Security Program (MGFSP). This is the third year of the grant program which provides support for small-scale gardening, herding and livestock operations to increase the quantity and quality of locally grown food in food insecure communities. A total of $2 million is available for this year's program.
This year's program is open to:
Individuals, including backyard farmers – up to $5,000

Applicants must be a Hawai`i resident, at least 18 years old and head of the household.
Those previously granted awards under the MGFSP are ineligible.

Organizations that are registered to do business in Hawai'i, including Native Hawaiian, non-profits, federally funded educational facilities – up to $10,000

Organizations receiving awards will be required to provide matching funds of at least 10% of the grant award. The matching funds cannot be derived from other federal sources.
The online application form and program information for individuals are available at the HDOA Market Development Branch website. 
The Request for Proposals for organizations is posted on the State Procurement Office website.
_______________________________________________________________________
USDA Extends Deadline for Revenue Loss Programs

Washington, May 26, 2023 –The U.S. Department of Agriculture (USDA) is extending the deadline for the Emergency Relief Program (ERP) Phase Two and Pandemic Assistance Revenue Program (PARP) to July 14, 2023, to give producers more time to apply for assistance. The original deadline was June 2.
All Big Island growers qualify for ERP 2 due to drought, which could be an automatic $2,000 or more for 2020 and 2021. Check out this blog post for more info and a webinair link. PARP applies if your income was reduced by 15% in 2020. Please reach out to your local county USDA office in Hilo at 808-933-8381 ext 2 or [email protected].
________________________________________________________________________
Coffee, Brought to You by Bees
https://tinyurl.com/ywxxvym2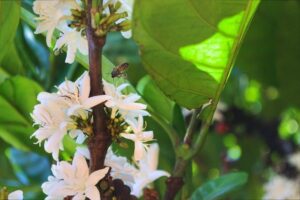 "Bees are crucial for producing many of our beloved foods and beverages. Coffee is one crop that benefits from bee pollination.  Unfortunately, pollinator numbers are falling worldwide. Many are facing extinction. This decline is due in part to ever-expanding farmland covered by a single kind of crop plant — agricultural monocultures.
Restoring pollinators' habitat is essential, both to stop their decline and to maintain food production. Calls for large-scale restoration, such as the UN Decade of Restoration, are ambitious and may compete with other land uses. In addition, restoration often has an upfront cost, while its benefits could take time to obtain.
However, our new research shows that coffee farmers who restore patches of forest across their properties can nearly double their profits with just a 15% increase in natural habitat over five years. The benefits, a result of higher pollinator numbers, continue to increase for both farmers and forest over the long term (40 years). This is the first study that assessed such benefits in the long term and at a large scale.…"
______________________________________________________________________
Hawaii Coffee Researchers Prepare to Unleash the Wasps
https://tinyurl.com/yc7jnkb6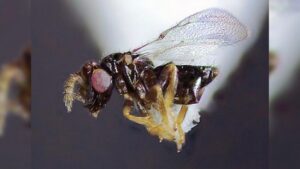 The wasp Phymastichus coffea. University of Hawai'i News service image.
"Thousands of tiny wasps will soon be unleashed in Hawaii as part of a collaborative effort to fend off one of coffee's most persistent biological foes: the coffee berry borer (CBB).
The microscopic wasps, named Phymastichus coffea, have been proven to be effective in killing coffee berry borer populations in parts of Latin America.
Now, with participation from coffee farmers and numerous research and government agencies, the wasps are being bred for release on coffee-growing areas of Hawaii's Big Island, and potential releases in Maui and Oahu.
"This biological control agent has the potential to make significant positive economic impacts in the Hawaii coffee industry and offers an environmentally safe way to manage CBB," Mark Wright, a professor of Entomology at the University of Hawaii at Manoa, said in an announcement from the school's College of Tropical Agriculture. "The Hawaii coffee industry is economically and culturally significant, and we hope that this work will improve the lives of many people associated with the industry."…
________________________________________________________________________
 Zoom Workshop on Soils and Soil Fertility Management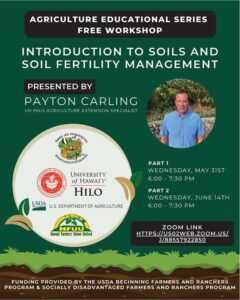 ---
How Does Coffee Packaging Preserve Aroma?
https://tinyurl.com/yw8m9jdz
"Here's where packaging comes into play. By using the right materials and features, you can preserve your coffee's aroma long enough for consumers to experience the same tasting notes that you list on the bag.
To understand more about aroma and how packaging protects it, we spoke with Yu Yuki, Sales Manager at MTPak Coffee. Here's what we found.
WHAT IS AROMA & WHY DOES IT FADE?
Aroma is what we smell when roasted coffee beans release their volatile flavour compounds, and is generally used to describe the smell of brewed coffee (the equivalent term for dry coffee is "fragrance").
However, while the word "aroma" is often associated with smell alone, often much of what we can taste in a coffee when we drink it is its aroma.
This is because the human tongue can only pinpoint a number of basic sensory tastes (bitterness, sweetness, and mouthfeel, for example). Therefore, many of coffee's more complex flavour notes are actually derived from your sense of smell.
The flavour compounds we can identify in coffee aroma are actually created from aroma precursors during the roasting process, and particularly during the Maillard reaction. When this occurs, there is a huge release of aromatic compounds; some of them are pleasant, others not so much. A coffee's aroma and how much it has faded is often used as an indicator of freshness. Simply put: the more aromatic compounds in the bean, the fresher it is, and (usually) the better it tastes…"
---
World Coffee Research News
https://worldcoffeeresearch.org/news/2023/gxe-cupping
"Member companies participate in global GxE (gene-environment) cupping experiment.  Quality evaluation of International Multilocation Variety Trial samples is underway.
This activity is part of the International Multilocation Variety Trial (IMLVT), which tests the performance of 31 top-performing coffee varieties—most of which have never been tested on a broad basis—across 28 testing sites in 16 countries around the world. WCR and its partners evaluate these coffee varieties on three high-priority traits, including yield, disease resistance, and cup quality. In addition to measuring how plants perform in each location, the trial also measures how stable or variable these traits are across different environments."
________________________________________________________________________
Peace Corps Service Leads to Cascara Business
https://www.peacecorps.gov/stories/a-volunteers-time-in-panama-sparks-superfood-startup/
During his first month of [Peace Corps] training in Panama, Roca saw on an online video of a CEO who mentioned a cognition supplement made with coffee cherry (cascara) extract. Roca started doing research and discovered cascara's benefits.
"It has a crazy number of antioxidants, more than many other superfoods. It also contains the brain-derived neurotrophic factor, BDNF, that stimulates brain function," Roca said ….
---
New Research Explains How Finer Grinds may lead to Weaker Espresso
https://tinyurl.com/5n75cwxp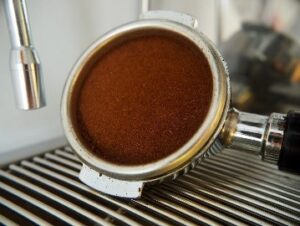 "Research published yesterday shines a new light on a counterintuitive phenomenon in espresso craft, when finer grinds may lead to underdeveloped, or "weaker," espresso. The culprit appears to be uneven extraction, according to the study published yesterday in a special food-focused section of the American Institute of Physics.  The research builds upon a groundbreaking study published in 2020 that questioned traditional thoughts and standards related to espresso recipes and extraction principles.
Both studies involve mathematical modeling to explore how variables such as grind size, particle distribution, water pressure and flow affect espresso extraction. Both also state an intention to help professional coffee people better understand and control espresso quality, while potentially reducing coffee waste in day-to-day operations…"
---
Here's Why Cold Brew has More Caffeine than Iced Coffee
https://www.mashed.com/1284616/heres-why-cold-brew-more-caffeine-than-iced-coffee/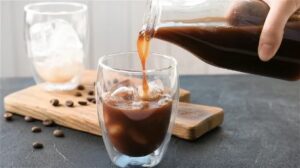 "Cold brew coffee has been growing in popularity as a go-to beverage for caffeine lovers, especially during the summertime. Whether you make your own at home with concentrate, grab one from your local café, or sip on ready-to-drink canned brands from the store like Lavazza, La Colombe, High Brew, or Sail Away, cold brew offers a pleasant coffee experience. The average 16-ounce serving of cold brew contains about 200 mg of caffeine, whereas traditional iced and hot coffees have about 100 mg of caffeine. Therefore, if you're really in need of a jolt of energy, cold brew should definitely do the trick…"
---
UKERS 2023 Entries are Now Open!
The UKERS Tea & Coffee directory is the number one reference tool in the tea and coffee industries worldwide.
UKERS readers and users are coffee roasters, tea packers, exporters, importers, brokers, speciality gourmet retailers, industry newcomers and anyone with an interest in this expanding industry.
Enter now to ensure that your business is visible in the UKERS 2023 directory!
---
How Long Green Coffee Beans will Stay Fresh in Proper Storage
https://www.tastingtable.com/1288163/how-long-green-coffee-beans-stay-fresh-proper-storage/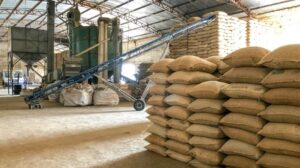 "…Foremost, it's necessary that green coffee beans are stored properly. The coffee's moisture content should not exceed 12.5% but not dip below 8%. Such an environment can only be accomplished through precise storing conditions, like a temperature of 68 Fahrenheit and humidity of 60-65%. Sounds incredibly particular, right? As a result, producers have turned to specially built-hermetic bags to ensure that all the factors are just right…."
KCFA Sells Grain Pro bags here:
---
How to Pair Specialty Coffee and Cheese

"…Traditional and innovative cheese coffee drinks
While butter or Bulletproof coffee is popular in some Western countries (mainly North America and the UK), some Scandinavian countries also drink kaffeost, or coffee cheese.
This traditional Scandinavian beverage is made by adding small cubes of leipäjuusto (or bread cheese) to a cup of filter coffee. The cubes of cheese will melt slightly, and will absorb some of the coffee's flavours. At the same time, the coffee will take on some of the cheese's nutty and buttery flavours.
People in Colombia also enjoy café con queso, which is similar to kaffeost (although the cheese has a consistency more akin to mozzarella). As the cheese melts, it imparts creamy flavours, with some people removing the cheese to eat separately or with bread.
In recent years, we have also seen cheese foam become a popular addition to coffee and tea beverages – particularly across Asia. Cheese foam is typically made using cream cheese, whipping cream, milk, and sugar, and therefore tastes sweeter.
Similarly, a recent trend has seen Parmesan cheese grated over coffee cocktails (such as espresso martinis), which adds more of an umami flavour…"
---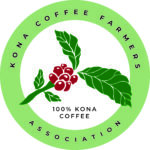 Like what you read here each month? If you're not a current member of KCFA, please click here and join us at the Farmer, Supporter, or Business level.
---
Waikiki Toboggan-Historical Commentary
By Peter Young
© 2023 Ho'okuleana LLC
https://imagesofoldhawaii.com/waikiki-toboggan/
"In the late 19th century, Waikiki's shoreline was mostly a day-use beach; overnight accommodations were scarce.  Visitors were usually residents of Honolulu who would arrive via horse-drawn carriage, on horseback or in a canoe."
"At the Long Branch Bathhouse (named after a popular New Jersey resort) another form of recreation was established …
"Our reporter visited Long Branch Waikiki Tuesday and saw the working of the toboggan slide at that place. The following particulars regarding this innovation in bathing tactics were gathered on the spot and may be of interest to our readers." "The platform of the arrangement is reached by a flight of steps and the chute or slide is twenty inches wide. This narrow width gives a great momentum to the toboggan as it slides over the rollers for about 200 feet until the water is reached." …
---
CBB/CLR Subsidy Program
Aloha Coffee Farmers,
There is help out there for your struggles with Coffee Leaf Rust!! Please send in your application for the CBB-CLR Subsidy and get 50% reimbursement of your spray product receipts.
Start on the program webpage to get an application and view a list of HDOA-approved products that we reimburse. Please email the completed form to [email protected] with your receipts from 7/1/21 – 6/30/22.  If you prefer, call for a paper application and mail it in with your receipts. You can also come to the office in Captain Cook for an appointment.
If you're new to the program, there's one more form to fill out and I will need your GET#, and SS# or FEIN# as well as an ID. If you need help with spray decisions, and understanding when to use or mix CLR sprays, please see UH-CTAHR's spray document, especially the excellent table at the end on pages 5-7.
Melanie Bondera, CBB-CLR Subsidy Program, Hawaii Department of Agriculture, Phone: 808-323-7578
Mailing address: P.O. Box 226, Captain Cook, HI 96704
Physical address: 82-6130 Mamalahoa Hwy, Room # 7, Captain Cook, HI 96704
---
Salute to Business Member – Africa Coffee Bureau
Africa Coffee Bureau (ACB) is a hybrid social-entrepreneurial limited company founded out of Silver Spring City and, incorporated in the State of Maryland, on January 07, 2017.
Its purpose is to seek promotional network and competitive market-oriented linkages for African coffees in the North American retail chain structure and broker trade negotiations between African farmers and the United States roasters. It's Vision is to have profitable niche markets responsive to specific African coffees in the North American retail chain structure. Its overall goal is to improve the livelihoods of African smallholder farmers especially, women led 150 – 400 coffee tree farms through incentive rewarding niche markets.
(202)746-6160
https://africacoffeebureau.us/
_______________________________________________________________________
Recipes Wanted! If any of you have recipes that you would like to share, please submit them to the editor: [email protected]
LET US KNOW WHAT YOU THINK! >> Write to us. We welcome Letters to the Editor up to 150 words. We reserve the right to edit for clarity and length.  Include your name and email address >> Email: [email protected] with SUBJECT: Commentary.
Suggestion Box
Let us know what you would like to see in our newsletter. Suggestions on what to include or not. What could we do better?. Let us know. [email protected]
---