The Independent Voice
           Newsletter of the Kona Coffee Farmers Association — May 2012
                   PO Box 5436 Kailua Kona Hawaii 96745 USA
www.konacoffeefarmers.org
[email protected]
                                  Fun at the Kona Coffee Blossom Banquet!

---
Contents
Geographical Identity 
Kona Coffee Blossom Banquet  
Legislative Update  
Kona Coffee Resolutions 
Note to Supporting Business Members  
CBB Forum  
Seahorses & Lobsters 
EDITOR:  Clare Wilson
---
 Geographical Identity: KCFA's Path to Protection
By Colehour Bondera
How does the USA view geographical identity?
An "origin" product means one that comes from a specific geographical area and like Kona coffee there are many around the country and the world.  The United States of America in fact is one of the last countries in the world to have a national group helping these products/crops to be recognized and protected, due to a legal structure which does not easily recognize geographical identity unless it is first given credence at the local and state levels.
Is there local government endorsement?
We continue to work with the County of Hawaii and the State of Hawaii to inform and attempt to affect policy and legal decisions so that Kona coffee gets the name recognition and protection deserved by those governmental structures.  Of course 100% Kona coffee can and should be served at all such entity run meetings and events, and one of the likely needs will be to ensure that continued communication with our elected House and Senate representatives make sure that their offices serve 100% Kona coffee first!
What is AOPA?
Working with other farmer-focused groups, KCFA is a founding member of American Origin Products Association (AOPA), a non-profit like KCFA, based in Fayetteville, Arkansas.  The Idaho Potatoes Commission and the Missouri Pecan Association have worked with KCFA to form this group whose mission is "Recognizing, protecting and sustaining origin products of the United States of America."
What about AOPA formation & certification?
Since AOPA is now a legal entity (both Bruce Corker as President, and I serve on the founding Board of Directors) – a 501(c)(6) – we are holding our founding conference to attract and inform additional members so that the group can begin to have a voice and national recognition when consumers (which we all are) see something marked with AOPA certification.  While this has not yet begun, it is one of the preliminary intents of the group.
OK, but what is oriGIn?!?
The formation of AOPA and the work done in that direction has been in collaboration with the Geneva, Switzerland based non-profit oriGIn (Organization for an International Geographical Indications network).  KCFA is one of the over 350 members from more than 40 countries of oriGIn who seeks to represent and protect products from around the world by speaking with a united voice.  International law is based in Geneva and the Director of oriGIn is a trained lawyer.
What are KCFA activities with oriGIn?
KFCA contributed copy to the book, American Origin Products: Protecting a Legacy, published oriGIn in 2010.   In addition, KCFA has attended annual oriGIn meetings around the world, the last in 2011 in Mexico, when Colehour Bondera was elected to a two-year term as oriGIn Vice President for North America.  The work of oriGIn and the work of Parmigiano-Reggiano (PR) are hand-in-hand in terms of international impacts, since PR seeks to give recognition to a particular product with an award every two years at Salone del Gusto.  The KCFA involvement with oriGIn directly influenced the selection of 100% Kona coffee for this award in 2010, received in Turin, Italy from PR by Colehour Bondera.  Maintaining this connection is significant for all concerned.
Who do consumers trust?
How does all this come together?  When a consumer is selecting a purchase, they can more readily connect to it if they know where its coming from.  If an organization is recognized and trusted, and the purchased item is identified as a member of that organization (oriGIn, AOPA, or KCFA) then the value increases and the commitment to buy is enhanced.  Remember that people prefer to buy from reliable and respectful sources!
If united, can we help Kona coffee?
Working together within KCFA gives us a voice to go to the County and the State.  Working together nationally as farmer-based groups such as AOPA will give us a voice within the states and the nation.  Working together among and across countries gives us a voice internationally.  Only through these united forces can Kona coffee be protected from individual, small company, governmental and international large company self-interests.  Only through working with others can we stand on our own and preserve and protect Kona coffee at home and around the world!
---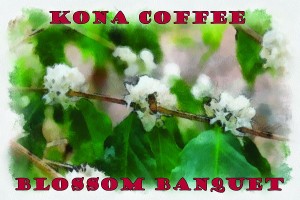 The Kona Coffee Blossom Banquet held on Saturday, April 28, 2012 was a success! Over 125 farmers and friends gathered at the Courtyard Marriott at King Kamehameha's Kona Beach Hotel for fun, food and fellowship. The evening event was filled with live and silent auctions as well as several "give aways" which added lots of fun, hopefulness and excitement.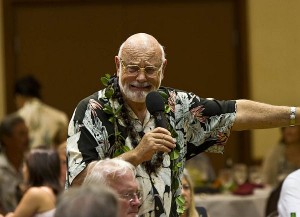 Auctioneer Rees-Thomas
The Kona Coffee Farmers Association was able to add over $10,000 to our treasury to further enable our KCFA mission as a result of this event.  Many thanks goes to our corporate supporters; Matson, Kona Trans, Horizon Lines, West Hawaii Today, Hawaii Electric Light Company, Meadow Gold Dairies; and our membership donors; Keith & Diane Keffer, Bob & Kristin Perry, Jim Cone and Jeff & Carol Seel. And a Special Mahalo to Mary Lou Moss, our successful Event Chair person!
Needless to say the over than seventy community auction item donors deserve a lot of credit, as well as the attendees who were so active in the bidding.

  Master of Ceremonies, Paul Uster
We had a great team of dedicated volunteers again this year which made the event run very smoothly and made my job much easier.  Special thanks goes to Cea Smith, Clare Wilson, Kathy Wood, Anita Kelleher, Lisa Corker, Kathy Gedeon, Tony Ambut, Michelle Jove, Lilly Kong, Brooks Wakefield, Cindy Telesco, Louise Hanna, Bob Kraus, Kathy & Denny Rement, Paul Uster, Debbie Donald and Nickie Hoppe. The banquet this year  was such a fun team effort that it actually made it run very smoothly.  If you would like to help with the banquet next year, just give me a call at 329-4035.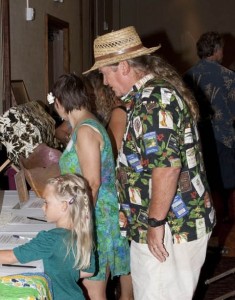 The Eckerts
---
Legislative Update
HB1827 (Warrantless HDOA Entry Onto Farms), HB1947 (Premature Food Safety Program) and SB2352 ($20 Million in Special Purpose Bonds for Kauai Coffee Co.): Each of these bills was opposed in KCFA testimony and died in committee.HB280 (Repeal of Mandatory Inspection and Certification of Green Coffee): This bill (pushed by the Blenders and Processors) was passed by the Legislature on May 2 and will become law unless Gov. Abercrombie vetoes it within 45 days. The bill would repeal the protective system of inspection and certification adopted in response to the Kona Kai Coffee Counterfeiting Scandal of the mid 1990s. Under HB280 sellers (not the Hawaii Dept. of Agriculture) would be "documenting" origin—an invitation to unscrupulous sellers to counterfeit Kona coffee. With repeal of the grading system, the Blenders/Processors would be able to label "Off Grade" coffee as "Kona Coffee". This bill would have disastrous affects on the integrity and reputation for quality of our product. We need to request the Governor to veto HB280. If you have not done so already, please go to the KCFA website and use the link on the homepage to sign the online petition to the Governor. If you have signed the petition, please take two minutes to send the Governor a separate personal email asking for a veto: "Governor Neil Abercrombie" [email protected].  Also please ask your friends and coffee customers to sign the petition and send emails. Hawaii needs to strengthen—not repeal—protections for coffee farmers. This is a BAD BILL for Kona Coffee.
Kona Coffee Resolutions!
We congratulate the Hawaii County Democratic Party for focusing attention on specialty crop farmers and in particular on two resolutions adopted by the delegates in their May 5 meeting in Honoka`a. Resolution #12HCD/2012 "Calling for Truthful Marketing of Kona Coffee" and Resolution #16HCD/2012 "Relating to Protection of 'Origin' Products and Their Small Farm Economies" go directly toward helping to protect the Kona coffee name.
Resolution #12HCD recognizes Kona coffee as one of the world's premier specialty coffees which has been damaged by existing state laws allowing Kona blends of 10% Kona coffee and 90% coffee from unknown sources;  and seeks legislation to require Kona blends to contain at least 51% Kona coffee with the remaining coffee source identified.  The resolution also states that the State of Hawaii should provide the same type of protections to its specialty crop farmers as the State of California provides to Napa Valley wine grape growers, as Idaho provides to Idaho potato farmers, and as Georgia provides to Vidalia onion farmers.
Resolution #16HCD aims to protect origin products in Hawaii.  Origin products are high quality products whose unique characteristics derived from their geographical location and distinctive cultivation bring higher prices in the market such as Kona and Ka`u Coffee and Maui onions.  While other states and countries have laws to protect origin products and their names from counterfeiting and being marketed as common commodities of a similar type, the Hawaii legislature has enacted laws that allow for the diluted blending and misleading labeling of origin coffee and this year considered a measure to permit the diluted blending of Hawaiian teas. Protective laws such as those in California for Napa Valley wines and in Idaho for Idaho potatoes are necessary to support small family origin farms and their economies.
For the full text of the resolutions please go to:  https://konacoffeefarmers.org/county-democratic-party-resolutions-on-agricultures-fair-marketing-issues/
---
RE: www.KonaCoffeeFarmers.org website: Please NOTE: all links on site are now shown in red. Just click on the red words to go there. (Search engines use the text on-a-link to help determine what the content is, so when possible I will use a short description of what the page is being linked to <in red> instead of 'here'.)
---
Supporting Business Members
To Our valuable Supporting Business Members:  With the redesign of the Kona Coffee Farmers Association's website, you have enhanced listing opportunities. Your business logos now come up randomly on the Home page in our effort to promote you. You can also edit your listing to add a description and more information about your business. To do so:  you need to Login with your Username and Password.  If you don't have them, zap an email to:  [email protected] and we'll get back you asap
---
CBB Talk Story
A CBB talk story session was held on April 24Th.  Susan Shriner and Andrea Kawabata were the resident "experts".  It was attended by about 60 farmers.  Here are the highlights of the discussion:
Smith
~says need for working entomologist now.  Email [email protected] and request that an entomologist be hired and based in Kona
Shriner:
~ citing Colombian study stated:  The more water you use/acre the better- ideally 100 gallons/acre, Shriner suggested 30 gallons/acre at a minimum
~citing Colombian study said 7–10 oz.  fungus solution with 4 oz. Spreader per acre.  Silicone Spreader as important as fungus.
~said to spray fungus on soil
~said results after spraying should show up within a week
~said commercial fungus may survive on its own.Cited Patent violations of growing your own, however, and graver violations of buying from other farmers if used as "pesticide'
M.Dasilva:  what time of day to spray?
Shriner:
~ spray in the afternoon when beetles are most active
~Colombian study able to reduce CBB damage to 0.5% by picking every 2-3 weeks
J. Oster:  has observed live adult beetles in stored coffee at 9% relative humidity
Shriner:
~Spray now! Bees have moved away from flowers and ground can be sprayed at any time. Put all cherries in plastic bucket, cover tightly, or spray with pyrethrins or fungus. Beans should be double bagged before taking to waste station.  CBB can chew through thin plastic covers.
L. Kong:  in late afternoon and evening, observed swarm of CBB coming off ground for several hours, finally observed them flying into cherry/ flower clusters.  Kong sets traps near ground level to catch CBB coming off ground.
B. Corker stated need for controlled data study —"only anecdotal here today"
S. Scarr asked if Traps were for Control or for Sampling?
Smith
~cited Eric Jang as saying "Traps excellent way to monitor population, not to control".  We must remember that there are perhaps millions of beetles.
~suggested meeting back in 60 days to make further observations and audience in agreement.
Shriner asked that a CBB web Forum be accessible to all.
Kona Coffee Farmers Association has set up the Forum here: https://konacoffeefarmers.org/forums/forum/coffee-berry-borer/
please send all ideas for any improvement of the Forum to [email protected] We need your input!
Next CBB "Talk Story"Meeting will be June 21- CTAHR 3:30-5pm ***everyone welcome!
---
                                                       Seahorses and Lobsters!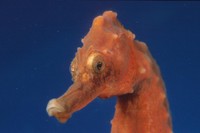 KCFA is hosting an event on June 12th at the Natural Energy Laboratory of Hawaii (NELHA) located south of the airport. At 1 p.m. we'll be touring the Ocean Rider Seahorse Farm www.seahorse.com.
This is America's only seahorse aquafarm and one of Hawaii's most popular attractions. Tickets are $25 for this unique experience which will take approximately one hour.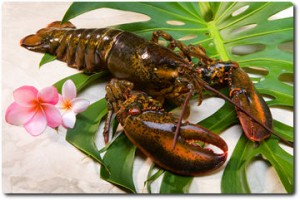 Following the seahorse tour, we will continue down the road to Kona Cold Lobsters www.konacoldlobsters.com for a free tour of this cold seawater operation. KCL began operations in 1987 to propagate, raise and sell Maine lobsters. For economic reasons, KCL no longer grows lobsters and has instead become a major distributer of Maine lobsters, Dungeness crabs, oysters, clams, mussels, kampachi, and other seafood being produced at NELHA. This tour will also take about an hour.
You are welcome to attend both tours or choose one or the other. Sign up now and reserve your spot. Go to www.konacoffeefarmers.org "Upcoming Events" for more information.
NELHA is located one mile south of the airport on the makai side of the highway.  Follow the road to signs showing where to turn left to go to the seahorse farm.  Kona Cold Lobsters  is farther down the road on the left side just before the gate to the NELHA offices.