The Independent Voice
Newsletter of the Kona Coffee Farmers Association November2013
PO Box 5436 Kailua Kona Hawaii 96745 USA www.konacoffeefarmers.org [email protected]
---
Contents
Legislative Update
Viewpoint Ray Anders
New Shipment of Burlap Bags
Holualoa Village Coffee & Art Stroll
Mahalo to KCFA Volunteers
Terroir Tour de France
Hawaiian Air No More 10% Kona Giveaways
HFUU Kona Chapter
Helpful Hints
Price Reports What is Kona Worth
Processors Not Paying for Your Coffee?
About the Natural Resources Conservation Service
Rainfall Records in Kona
Recipe Pumpkin Spice Coffee
Editor- Clare Wilson
---
LEGISLATIVE UPDATE
1Proposed Coffee Standards Amendments–After review and analysis of a 34-page set of proposed amendments to the HDOA's Coffee StandardsRegulations, the Legislative Committee identified 9 substantial concerns for coffee farmers arising from the proposed changes. (See last month's Independent Voice for a list of those concerns.) KCFA communicated the farmer concerns to HDOA Chair Kokubun and urged KCFA members to submit written testimony and attend the Kona hearing on the amendments. At the October 10 hearing, KCFA President Cea Smith testified in opposition to changes that would adversely affect coffee farmers. Cea's testimony was supported by the following KCFA members who also testified at the hearing: Joachim Oster, Mary Lou Moss, Bruce Corker, Jeff Seel and Colehour Bondera. Testifying in support of the HDOAs proposed amendments (and not supporting any of the farmer concerns raised by KCFA) were Roger Kaiwi (Hawaii Coffee Company), Greg Stille (Hawaii Coffee Association) and David Bateman (Kona Coffee Council). The Legislative Committee thanks all KCFA members who submitted written testimony and/or attended the hearing. We will wait and see what further amendments or changes may be made by the HDOA as a result of public testimony.
2County Council GMO LimitationPursuant to the Boards June 18 motion, Legislative Committee Member Colehour Bondera has continued tocommunicate KCFAs support for Hawaii County Council Member Margaret Willes legislation to limit introduction of additional GMO crops into Hawaii County. Enactment of this proposed ordinance will strengthen the protections adopted by the County in 2008 to prevent GMO contamination of coffee and taro. The Councils final consideration of Ms. Wille's proposal is scheduled for November 5.
–Submitted by the Legislative Committee
---
MEMBER VIEWPOINT
–from Ray Anders
AG DEPARTMENT SHOULD GO BACK TO THE DRAWING BOARD FOR PROPOSED COFFEE STANDARDS
I have no confidence in the public testimony model that the Hawaii Department of Agriculture is using to seek public input and to make changes to the grading rules for Kona coffee. They set up the meeting, farmers come with different opinions, the press writes a story and the HDOA goes off and does whatever they want to do because there is no obvious consensus. In addition, this amendment change was sprung on the industry with no forewarning. Coffee growers are in the middle of the coffee harvest season and they are busy in the field, with little time for thought and participation in a public process. The HDOA should put this rule making change on hold and give some thought to include growers, processors, coffee organizations and academia in a consensus building process that will address a much-needed rule change that will ensure coffee quality and provide a strong basis for integrity within the industry.
The Hawaii Department of Agriculture has submitted a long laundry list of proposed changes to the administrative rules for Standards of Coffee. The list includes new requirements, new fees, new amendments, and repeal of some existing rules. It appears that the Quality Assurance division of HDOA thinks that they can micro-manage the many small coffee growers by giving them an increased burden of bureaucratic nonsense. The entire coffee industry should stand together and reject these proposals. It does nothing to assure quality and integrity of the Kona Coffee industry. It needs to go back to the drawing boards.
Public testimony pointed out that wording in the Standards for Coffee is misleading. It clearly is not intuitive. Does anyone associate extra-fancy or fancy with size? Why is Estate not a grade in the Standards for Coffee? Estate coffee contains the full range of bean sizes and can meet all of the other criteria for coffee grade. In addition Estate roasts have won many state-wide cupping contests. It should be included as a grade.
Washington Apple grading standards would be an excellent source for study to bring clarity to the wording of the coffee standards. It was the first and most rigid standard to be adopted in the nation going back to 1915. It deals with the internal condition and appearance for a diverse array of apple varieties in what has become a $1 Billion dollar world-wide business in the state.
This year is the third harvest season following discovery of the CBB in Hawaii and the quality of Kona Coffee is being negatively impacted. This was clearly pointed out in the Greenwell White Paper published earlier this year. During the past two years some processors have paid top dollar for coffee that was 100 percent infected with CBB. Many bags were never opened and inspected when purchased. This junk coffee is finding its way into the market place as either green or roast and will erode the reputation of the Kona coffee industry. In some ways the effect will be no different than when fraud was used to sell counterfeit coffee during the Kona Kai debacle. Quality and integrity are important to maintain high market prices.
---
BURLAP BAGS FOR SALE
A new shipment of our signature burlap bags has arrived. These burlap bags are of high quality and at a good price – $3.00 each for Members. Log in as a Member on the KCFA website and then go to the Store to place your order.
---
HOLUALOA VILLAGE COFFEE & ART STROLL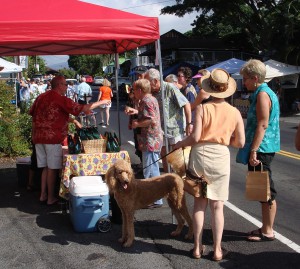 Last Saturday, November 2, The Holualoa Village Association and Kona Coffee Farmers Association hosted the very successful 15th Annual Coffee & Art Stroll. Thirty-six Kona coffee farmers presented their coffee to the over 2,000 local and visitor attendees that strolled through the village. There were food vendors, musicians, artists, and sunny weather enriching the event. Many farmers declared surpassed sales from years past. There was a total of 463 ballots cast by the strollers for the Peoples Choice award and the top five farms were: Fire Island Coffee from Messahana Farm , Mr. Bean Kona Coffee, Oka Farms, Heavenly Hawaiian, and the Kona Coffee & Tea Company.
As Mary Lou Moss, event chair, said It takes a village to put on the 'Coffee & Art Stroll' in Holualoa. Lots of volunteers helped to bring this to success and I want to give special thanks to Randy & Atsumi Phillips, Jill Wagner, Eric Mader, Christy Carrico, Judy & Ed Shuster, Kally Goschke, James Slusser, Luie Kona, Louise Hanna, Bob Kraus, Sue Dursin, Berta Marcigan, Jeff Seel, and extra kudos to Tom Butler, Kurt Schweickhard and Anita Kelleher.
Photo KCFA Members Sharon Kirkland and Jeff Keith of Messahana Farms offering a taste of their award-winning coffee
Chefs Choice Five Star Kona Coffee Awards
This year the Holualoa Village Coffee & Art Stroll added for the first time a Chefs Coffee Judging to its annual celebration of coffee and art. With more than 30 Kona coffee farms participating and serving coffee in the Coffee & Art Stroll, chefs from three of Konas restaurants were asked to select 5 coffees to receive Five Star Kona Coffee Awards. The chefs judged the coffees on the basis of the tastes they would prefer to offer to their customers for an after dinner coffee.
The farms receiving the Five Star Kona Coffee Award, in alphabetical order, are:
Alii Pride Farm
Java on the Rock
Konaloha Farms
Mokulele Farms
Sugai Kona Coffee
The chefs who served as judges were Morgan Starr of Mis Italian Bistro in Kealekekua, Lynn Sheehan of Holuakoa Gardens in Holualoa, and Giovanni Saffioti of Amici Bar & Grill in Kainaliu. Each of these restaurants is located along Konas coffee belt and proudly offers 100% Kona Coffee.
The Kona Coffee Farmers Association, which co-hosted the Coffee & Art Stroll with the Holualoa Village Association, will be presenting certificates to each of the award winning coffee farms.
The judges noted, With so many wonderful coffees demonstrating the rich floral taste and smoothness that characterizes Kona Coffee, the judging was difficult. In addition to the award winners, the judges congratulate all the farms that participated in this very unique community event.
Mahalo nui to Bruce Corker for putting together this important Chefs Choice event for the Coffee & Art Stroll. It was a welcome addition to the annual festival and is sure to be continued in future Holualoa Strolls.
---
MAHALO TO OUR GENEROUS MEMBERS
Mary Lou Moss would like to thank the following KCFA members for generously donating their green coffee so that KCFA has coffee to sell during the Kona Coffee Cultural Festival: Randy Phillips, Clare & Phil Wilson, Debbie Donald & Paul Uster, Craig Smith, Jeff & Carol Seel, Doug Murphy & Laura Nelson & Kim Johnson.
Any left over coffee will be sold to the cruise ship tourists at our table down on Alii Drive.
---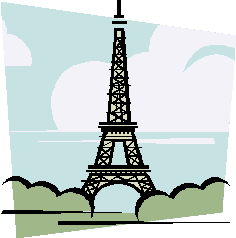 HAWAII COFFEE FARMERS PARTICIPATE IN "2013 TERROIR TOUR DE FRANCE"
Kona Coffee farmers and KCFA members Bruce and Lisa Corker recently traveled to France as part of a group of American producers invited by theFrench Ministry of Agriculture. The invitation was extended in order to provide an exchange of ideas and information between Americans and their French counterparts concerning the promotion and protection of regionally identified agricultural products. The exchange was entitled "The 2013 Terroir de France" and covered the period from September 29 to October 4. "Terroir" is the French word thatincorporates elements of geographic place, soil, climate, history and farming techniques that are associated with agricultural products from particular regions.
In addition to the Corkers who represented the Kona Coffee Farmers Association, the American delegation included producers of Idaho Potatoes, Vermont Maple Syrup, Maine Lobster, New Mexico Native Chilis, and the Wisconsin Ginseng. Each of these delegates is associated with a producer organization affiliated with the American Origin Products Association, an umbrella organization that provides a national voice for regionally identified agricultural products.
On the French side of the exchange were producers of a number of France's many renowned regional products, including Champagne, Comte Cheese, Bresse Chicken, Grenoble Walnuts, Jura Wines, and Vosge Fir Tree Honey. Also participating were representatives of various local, regional and national governmental agencies, including the Chief of the International Department of the French Agricultural Ministry.
The American producers received a first-hand review of the dedication of French farmers to the traditional methods of production and to the quality of their heritage products.
The Americans were also impressed by the active support from governmental agencies at all levels in promoting French regional products throughout the world and in protecting those products from counterfeiting and deceptive labeling by competitors in France and abroad. Bruce Corker noted that "even for a small-scale specialty product like Vosges Fir Tree Honey, governmental agencies provided active assistance in putting a stop to the marketing of counterfeit honey from Poland."
The French were surprised at the meager support given by American governmental agencies for American origin products. The French farmers found it difficult to comprehend that the State of Hawaii would authorize the use of the name "Kona" on packages containing 90% non-Kona coffee, or that the American government does little or nothing to combat counterfeiting of "Kona Coffee" on the U.S. Mainland.
"The strongest themes to emerge from the exchange," observed Lisa Corker, "were the shared commitment of French and American farmers to protect the regional heritage and identity of our respective specialty crops, and the extent to which we in America can learn from France and other European countries about ways to support our growing number of regionally identified agricultural products."
For more information on the American Origin Products Association and the "2013 Terroir Tour de France" visit www.aop-us.org
For more information on efforts to protect the reputation of "100% Kona Coffee" visit www.konacoffeefarmers.org
–Submitted by Bruce Corker
---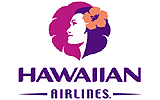 HAWAIIAN AIRLINES HAS AGREED TO DISCONTINUE GIVEAWAYS OF "10% KONA COFFEE" TO PASSENGERS
On August 21, 2013, Kona Coffee Farmers Association President Cecelia Smith wrote to Hawaiian Airlines President & CEO Mark B. Dunkerley requesting that the Hawaiian Airlines discontinue the giveaway to passengers of deceptively labeled packets of coffee using the Kona name, but not disclosing where 90% of the coffee in the packet was grown. The letter (click here) noted that, The reputation of Kona coffee as one of the worlds best specialty coffees is a significant factor in encouraging visitors to come to Hawaiiand to travel on Hawaiian Airlines. We encourage Hawaiian Airlines to support the farmers who grow what is now Hawaiis premier agriculture productand protect the good name of this heritage Hawaiian crop.
In a response dated September 20 (click here), Mr. Dunkerley advised Ms. Smith the giveaway program would be discontinued before years end and that Hawaiian Airlines will not be renewing this promotion. He also expressed appreciation for the work of the Kona Coffee Farmers Associations work in developing the market for Kona coffee.
Ms. Smith said that she is particularly pleased with this recognition of the work of our association. More than 350 members strong, the KCFA is continuing to build awareness on the part of visitors and Hawaii residents alike, that only when 100% of the coffee in the packages is Kona-grown are consumers getting real Kona Coffee. We look forward to working with Hawaiian Airlines in the future to build a broad appreciation among air passengers for the many unique Hawaiian-grown agricultural products.
–Submitted by the Branding Committee
---
ACTIVITIES OF THE KONA CHAPTER OF THE HFUU
Recently, the Kona Chapter held its first locavore potluck and membership meeting, attended by about 30 people. Eva Lee, our member and pioneer tea grower from Volcano, was there as well with samples of her artisan tea and to discuss tea propagation. Several new people also came, among them the West Hawaii Today garden columnist and owner of Hoku Farm, who joined as a member as did Jana Bogs who presented the program on Growing for Maximum Marketability. Dru Kanuha reported in the history of traditional farming in West Hawaii and discussed the County GMO legislation. Rep. Nicole Lowen was also there as a guest. After we finished eating, Louise Hanna told me that the food was really good and that we ought to do it every week. We are planning to do it every month beginning in January after the holidays.
Other activities included meeting with the Chair of the House Agricultural Committee and also with Kamehameha Schools representatives. On November 4, Steve Sakala and David Case will be joining the rest of the HFUU Legislative Committee for a scheduled two hour meeting with the Chairs of the House and Senate Agriculture Committees in Honolulu to discuss the following legislative proposals.
1. 2014 State Legislative Priorities: HFUU is proposing several Bills to be introduced in the 2014 Hawaii Legislature. In a nutshell we are looking at a legislative package for 2014 that addresses the needs of whole systems agriculture, with on farm mentoring teaching of regenerative agriculture practices, nutrient recycling, regional food hubs, and farmer land use cooperatives. We are also promoting good agricultural practices to a level that will satisfy the Food Safety Management Act, the Hawaii Origin Products Act that will promote local production and legal protection of Origin products, and KCFAs coffee labeling disclosure bill.
2. Hawaii County GMO Legislation: Following our special membership meeting with Margaret Wille on June 10, we have supported Councilwoman Willes Hawaii County legislation (Bills 79 and 113) to restrict the production of GMO crops before both the Public Safety and Mass Transit Committee (PSMTC) and the County Council. The PSMTC met on October 1 and recommended passage of an amended Bill 113 by a vote of 6 Ayes, 2 Noes with one absence. The County Council met on October 15 and adopted Draft 3 with further amendments to Bill 113 by another vote of 6 to 2 with one absence. Further action on formation of an Ad Hoc Study Committee was postponed pending final Council action on the Bill now scheduled for a final Council vote on November 6. At our October 27 Chapter membership meeting Dru Kanuha, Councilman for Kailua-Kona, made it clear that he supported Bill 113 as amended and said that it would pass the County Council when it came up for the November 6 vote.
The Kona Chapter is operating now with a core membership of about 50. The State Union has made important political contacts at the county, state and national level as a visible and respected organization whose mission is to support family and other small-scale farms. We have inserted KCFAs positions on pest control and origin products in the National Farmers Union 2014 Policy Manual, and are pursuing county, state and national legislation in support of KCFA. KCFA has played a vital role in getting both the Chapter and the State Union to this point. We still need to build on what we have accomplished and for that continued support in both financial and human resources is needed.
–Submitted by David Case
---
HAVE EXTRA COFFEE? HERE'S HOW TO USE SOME
Make Iced Coffee Cubes
Save your leftover coffee, coffee grounds and even coffee beans to use in unexpected ways around the house.
Next time you make a pot of coffee, pour some into ice cube trays. Once frozen, you can use them to chill iced coffee without diluting it.
Repair Furniture Scratches
Fix light furniture scratches by rubbing damp coffee grounds onto the mark. You should see an instant improvement.
Make a Natural Dye
Steep coffee grounds in hot water to make a natural, sepia-colored dye for Easter eggs or crafts.
---
PRICE REPORTS – "WHAT IS KONA WORTH?"
This fall the KCFA will again have as part of its "Members Only" section on the website a "What is Kona Worth?" page, under PRICE REPORTS. This will list information supplied by members as to cherry and parchment prices (posted and otherwise) being paid by the buyers.
Click here to review the page.
As you will see, the most common price currently posted is $2.00/lb for cherry. There is unconfirmed speculation that some coffee is being purchased above the posted prices. Please continue to send in information to [email protected] on current cherry and parchment prices (posted and un-posted)–and information on discount schedules that buyers may be applying for CBB damage. The more information that is available and disclosed, the more market forces will benefit farmers.
---
HAVING TROUBLE GETTING PAID FOR YOUR COFFEE??? OWED BACK PAYMENTS?
Try these actions:
1) File a Complaint
You can file a complaint against your processor with the Hawaii Department of Agriculture. Hawaii Administrative Rules, Section 4-48-12 states that the HDOA will investigate your claim for past due payments owed you from your processor.
To begin an investigation into your claim you need to fill our a complaint form which can be obtained from the HDOA office located at 82-6130 Mamalahoa Hwy, Captain Cook, HI 96704 or you can obtain a complaint form online at the Hawaii Coffee Association web site located at: http://www.hawaiicoffeeassoc.org/HDOA-Compliant-Process
Fill out the complaint form with your statement of claim and the HDOA will initiate an investigation. The investigation can lead to payment being made to you and/or the loss of the processors license to purchase coffee cherry or parchment coffee in the future.
If you need advice or assistance with this process you can contact the Hawaii Department of Agriculture:
Ed Kise Hawaii Dept of Agriculture, (Kona) 323-7590 or Keith Otsuka Hawaii Dept of Agriculture (Honolulu) 808 832-0709
2) Hawaii Agricultural Mediation Program
Available information is here: www.hiamp.org. If you are feeling stuck, give it a try. You will be dealing with people with experience and skill.
---
ABOUT THE NATURAL RESOURCES CONSERVATION SERVICES, USDA
–Submitted by Louise Hanna, Board Member, KCFA
Two years ago I decided to attend a Coffee Talk sponsored by the KCFA to introduce me to the NRCS.
I am glad I attended because the presentation led me to think about my farm in a different way. My farm was planted entirely in coffee about 10 years before I bought it. So I had what I bought and I thought the die was cast. But my conversation with a conservationist made me realize that I should develop my own plan for my land. It made me realize that I had not only bought coffee trees, but I had also become responsible for their home the soil, and shade, and water, and air, and birds, and insects, and fungus, and organisms that my trees live with. I was not only responsible for how I treated my land, but I was also going to affect my present neighbors as well as future generations (like my grandchildren). You could say my view got wider and longer and taller and deeper than my coffee trees.
I recently met a cattle farmer from the Wyoming Wind River Range at a beach in South Kona. He summed up the NRCS as follows Lets face it, they pay me to do what I should do anyway for the good of my crop and my land.
Remember the Dust Bowl? A little history of land use in the United States is helpful. In 1862 congress passed the Homestead Act to encourage dry land farming in the great American Prairie, (sometimes know by immigrant farmers as the Great American Desert). Individuals were granted 160 acre parcels. The parcels were enlarged in 1909 to 320 acre and later to 640 acres if they were in Western Nebraska. This was a time of unusually high rain fall which encouraged dry land farming. The popular motto at the time was Rain follows the plow. But sadly the abundant rains ceased. These land grants put more acreage into agricultural production but they also encouraged dry land farming practices that had long range negative consequences. Deep plowing of the prairie killed the native prairie grasses that had held the rain in the top soil. Erosion followed. Less fertile soil meant you needed to add more acres into production to increase your yield adding more soil degradation and eventually the soil turned to fine powder and blew away in great sand storms The Dust Bowl.
In 1933 in response to the environmental and human suffering that was caused by the Dust Bowl, congress created the Soil Conservation Service as part of the US Department of Agriculture. This agency was later renamed Natural Resources Conservation Service and is available to us today. The task of this agency is to help farmers develop a plan for their land use, to encourage appropriate use and methods for a specific parcel of land, and to issue financial grants to farmers to share the cost burden of implementing conservation practices. The NRCS doesnt have all of the answers, but they do have some of the questions. They can help you as a farmer to broaden your view of the consequences of your farming practices. Use them as a resource and then explore other resources of knowledge on your own.
The goal of leaving your land in better condition than you found it is very important especially in Hawaii. By the way, todays motto is Rain follows the Forest. No one really knows if that is true, but we need to keep trying to do our best for the aina.
I invite you to attend the Coffee Talk on Nov 14th to meet the NRCS, Natural Resources Conservation Service. Ill be there and I would be happy to talk story with you after the presentation.
---
COMPILATIONOF RAINFALL RECORDS IN KONA
–Submitted by Karen Kemp
Last fall, many of you responded enthusiastically to my call for your rainfall records. I am pleased to announce that my student Jeff Schroeder is now a proud holder of an MS GIST from the University of Southern California, thanks in part to your generosity and interest. Jeff received lots of rainfall records of varying lengths and completeness and in the end was able to use records from 35 Kona farmers. Along with data from official sources, he ended up with 52 sets of monthly records for the 5 years from 2007-2011. The distribution of all the rainfall stations he was able to use is shown below.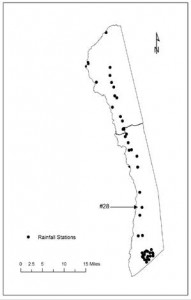 Jeff then proceeded to apply various advanced methods for estimating the rainfall between the places where your rainfall data had been recorded, building on a fundamental principle in geographic information science called spatial autocorrelation that says near things are more similar than things far apart. Thus we can estimate that places near recording stations likely have similar values. The result of all of this is a set of monthly rainfall maps for the makai Kona districts. Here are March and July. Make sense?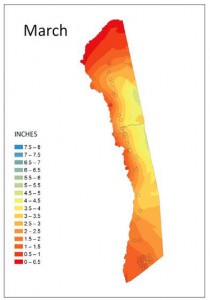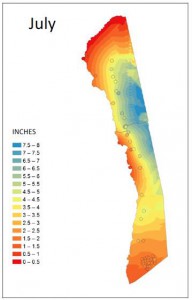 A short press release about Jeffs thesis is available on the USC Spatial Sciences Institute website at:
http://spatial.usc.edu/index.php/2013/09/thesis-research-creates-hyperlocal-rainfall-map-from-volunteered-geographic-information/ and the complete thesis can be downloaded at http://spatial.usc.edu/wp-content/uploads/SchroederJeffrey.pdf.
Thanks everyone for your interest and contributions! If you have any other ideas for thesis projects for my students, please get in touch. Im in Holualoa and can be reached at [email protected].
---
PUMPKIN SPICE COFFEE FOR THANKSGIVING
Ingredients & Amounts
1 Cup 100% Kona Coffee
4 Tsp Ground Cinnamon
2 Tsp Ground Ginger
1 Tsp Allspice
1 Tsp Nutmeg
8 cups of water
Cool whipInstructions
Mix the ground cinnamon, ground ginger, allspice and nutmeg
Place in the coffee filter
Add the ground coffee on top of the spice mixture
Brew the 8 cups of water with the Coffee/spice mixture
Pour into glasses
Top with cool whip
–Submitted by Anita Kelleher