The Independent Voice
        "Best Agricultural Newsletter in Hawaii"
         Newsletter of the Kona Coffee Farmers Association  
Message from President Tom
Is Coffee More Complex than Wine
Legislative Update
Coffee – the Unlikely Health Elixir
Coffee Value to be Based on Green Bean rather than Parchment
Even Honeybees Love Coffee!
The Perfect Blend: Intellectual Exchanges and Coffee
Kona Coffee Growers Enjoying Year's Bumper Crop
KCFA Stickers for your Coffee Bags
Disappointing Kona Blend at another Luxury Oahu Resort
KCFA Annual Meeting Coming up in January
Truth in Labeling?
Spruce up your KFCA Listing for Christmas Sales
Coffee Flour
Ripeness and Taste Article
Recipe: Ham Steaks with Red Eye Gravy
Write to Us
Editor – Clare Wilson
---
Message from President Tom
 Hi Farmers and Readers,
   Is it November already? When you are busy harvesting coffee it is so much fun you don't realize the time going by! I hope you can take some time off to go to the Coffee and Art Stroll in Holualoa on Saturday, Nov. 7. It's from 8 AM to 3PM. I searched the Holualoa Facebook page and they have  some  pictures of the town and of past Strolls. Visit there at https://www.facebook.com/holualoa.village.hawaii/   and you will want to go yourself. There is even a short "You Tube" showing the office and home of Kona's first dentist, Dr. H. Nakamaru. You have to scroll down a bit to see the short video. He and his son Kent were my dentists way back when I lived in Kealakekua. I wonder if I will be able to spot his office in Holualoa now that I know that it is there.
 
2015 is coming to an end and it will be out with the old and in with the new with some of KCFA's board of directors. It is always good to have new "blood" with new approaches and ideas. I strongly encourage you to consider getting involved. We do a lot with our organization as I have mentioned in the past but there is more we could do with the resources of women and manpower. More important things and more fun things.
 
  There is so much going on. CBB has brought on many changes. It is a pest yes, but it has brought recognition that Hawaii is the only place in the USA that grows coffee and some of it is world class. With this publicity perhaps we can get more outside help in protecting our heritage crop. The KCFA mission is to promote and protect Kona coffee farmers' economic interests in 100% Kona coffee and to protect the Kona coffee heritage.
  Like the old dentist office which I think was set up in 1927, if you don't protect it, it will fall down and be trod upon. Will you join us by becoming involved? I promise, it will be rewarding. Contact us and get in touch with Tom, Bruce, Cea or Chris.
   Mahalo,
       Tom
 A quick note – the December Independent Voice will not be published until at least December 4th due to travels of an important part of the team.
---
Is Coffee More Complex than Wine?


This is an interesting article from the Wall Street Journal. A wine expert and a coffee expert taste and discuss some select wines and coffees. Similarities and differences in descriptions and the general public's knowledge and appreciation of wine and of coffee were noted. This is the link to the entire article: http://www.wsj.com/articles/is-coffee-more-complex-than-wine-1446131689
–Submitted by Anita Kelleher      
---
Legislative Update
 Sen. Mike Gabbard, the newly appointed Chair of the Hawaii State Senate's Water, Land and Agriculture Committee, requested KCFA feedback on agriculture issues in the lead up to the 2016 legislative session.  In response the KCFA Legislative Committee provided Sen. Gabbard input on the following two matters:
 Coffee Labeling Reform:  Last year the Hawaii County Council unanimously adopted Resolution No. 501-14 requesting the Legislature to reform the State's coffee labeling law.  Specifically, the Resolution called for a minimum 51% genuine content in blends and identification of origin of the foreign-grown content on the label. Last session Rep. Richard Creagan introduced HB387 seeking the reforms requested by the Hawaii County Council.  For the 2016 Session, we requested that Sen. Gabbard introduce in the Senate and work for the enactment of a companion bill to Rep. Creagan's HB387.
 Beauveria bassina Subsidy Bill: In 2014 the Legislature passed, and the governor signed into law, HB1514.  That measure mandated the Hawaii Department of Agriculture to set up and administer a subsidy program for farmers using the fungus Beauveria bassiana (Bb) to combat the coffee berry borer (CBB) infestation in the State.  The bill provided $500,000 in funding for fiscal year 2014-2015 to the HDOA for the subsidy program.  The program was to run from July 1, 2014 through June 30, 2019—with subsidy rates to farmers of 75% of the cost of Bb for the first two years and 50% for the final three years.  However, the HDOA has failed to follow the Legislature's mandate.  To date, coffee farmers have not received a single dollar from the HB1514 subsidy program.  Close to a year and a half of the two-year period of 75% subsidies have passed. We asked Sen. Gabbard and the WL&A Committee to investigate and to report its findings as to why the Legislature's mandate set forth in HB1514 has not been followed.
 –Submitted by the Legislative Committee
---
Coffee – the Unlikely Health Elixir
 The October 3, 2015 edition of Science News Magazine includes a feature article by Nathan Seppa, entitled "The Beneficial Bean:  Coffee Reveals Itself as an Unlikely Health Elixir".  The article reviews a series of scientific studies from the last 30 years that indicate coffee consumption brings various health benefits.  The opening paragraph sets the tone of the article:
 "For a historically mistrusted drink, coffee is proving to be a healthy addiction. Scientific findings in support of coffee's nutritional attributes have been arriving at a steady drip since the 1980s, when Norwegian researchers reported that coffee seemed to fend off liver disease. Since then, the dark brown beverage has shown value against liver cancer, too, as well as type 2 diabetes, heart disease and stroke. Coffee even appears to protect against depression, Parkinson's and Alzheimer's diseases."
To read the entire article, click here: http://wp.me/p2o9ED-EF0
To read comments on the article, click https://www.sciencenews.org/article/coffee-reveals-itself-unlikely-elixir
 [Note:  In Kona many growers are convinced that Hawaii residents have the greatest longevity of any state in the country, in part, because of the beneficial effects of consuming of 100% Kona coffee.]
 –Article submitted by Bryce Decker
---
Hawai`i Congressional Delegation Announces New Valuation Method for Locally Grown Coffee
From Press Release Dated October 29, 2015
 Washington DC – Today, the Hawai`i Congressional Delegation praised the announcement that the U.S. Department of Agricultural (USDA) National Agricultural Statistics Service (NASS) will provide a green bean pricing valuation for Hawai`i-grown coffee starting in January 2016. Currently, Hawai`i coffee "farm gate value" is based on parchment rather than green bean. Green bean coffee valuation will more accurately reflect market values and make reporting easier for growers.
  
"Despite achieving global recognition, Hawai`i-grown coffee has long been valued differently than most of the global coffee market," said Congresswoman Tulsi Gabbard (HI-02). "This announcement by the USDA to value Hawai`i coffee in the same way as the global coffee marketplace will better align with global valuation standards, increase the value of Hawai`i-grown coffee, and help attract additional research and development funds to support our local coffee farmers and industry. Hawai`i is our nation's only domestic coffee producer, and this change will help strength our coffee industry and increase its potential for growth."   
To read the rest of the press release go here:
–Submitted by Christine Coleman
Even Honeybees Love Coffee!
From InternationalCommunicaffe
   A new study found that bees may select caffeinated nectar over an uncaffeinated, though otherwise equal-quality alternative. So, plants may be lacing their nectar with caffeine as a way to pass off cheaper goods, it said.
"We describe a novel way in which some plants, through the action of a secondary compound like caffeine that is present in nectar, may be tricking the honey bee by securing loyal and faithful foraging and recruitment behaviours, perhaps without providing the best quality forage," said Margaret Couvillon, one of the lead researchers, from the University of Sussex.
   "The effect of caffeine is akin to drugging, where the honey bees are tricked into valuing the forage as higher quality than it really is," explained researcher Roger Schurch.
   The researchers tested bees' responses to a sucrose solution with field-realistic doses of caffeine or without.
   They found that the caffeine caused honeybees to forage more and to direct their friends to the caffeinated forage more frequently with waggle dances.
   Bees were more persistent about returning to sites where they had previously found caffeinated nectar, even after the feeder had run dry.
   After sipping caffeine, bees were also less inclined to search for other resources, a behaviour that could be useful when the well runs dry.
   Based on their observations of the individual bees' behaviours, the researchers' model suggests that caffeinated nectar could reduce honey production in colonies if indeed plants reduce the sweetness of their nectar.
   The findings were published in the Cell Press journal Current Biology.
–Submitted by Christine Coleman
---
The Perfect Blend: Intellectual Exchanges and Coffee
Coffee and education are more connected than one might think.
 In Hawai'i, nearly 70 percent of all coffee is grown on lands owned by the state's largest school system, Kamehameha Schools, which sponsors the Kona Coffee Cultural Festival every year in support of the many small coffee farmers operating on its lands.
 
"Every year, we look forward to supporting the festival, which promotes Hawai'i's coffee industry and the dozens of small farming operations on Kamehameha's lands," said Jamee Miller, Kamehameha Schools' West Hawai'i region interim senior director and director of education initiatives. "When their farms are healthy, our lands are healthy, and it enables our educational mission and the economy to thrive."
 
In 1887, the private educational trust was founded and endowed by the will of Princess Bernice Pauahi Bishop, great-granddaughter of Kamehameha I. Pauahi believed education was the key to restoring and strengthening her people, so she left her estate – roughly nine percent of Hawai'i's total acreage – to found Kamehameha Schools.
Approximately 90 percent of her lands are on Hawai'i island, half of which are located in the Kona district, where Kamehameha Schools plans to transform a former resort-oriented property to be education-centric, at a site known as Kahalu'u Ma Kai.
 
"At Kahalu'u Ma Kai, we are looking forward to restoring the cultural landscape of the area back to what it once was, a place of intellectual exchanges connected to land and culture," said Miller. "This is just one example that conveys how Kamehameha Schools is now thinking about how some of its properties may be better used to support and create educational opportunities for Hawai'i."
 
Revenue generated by Kamehameha Schools land supports the education of over 48,000 learners including 3,000 public school literacy students, 3,700 public charter school students, and 6,400 preschool and college scholarship recipients.
 
Kamehameha also collaborates with more than 100 community organizations statewide in support of Hawaiian-focused education to learners of all ages.
 
For more information on Kamehameha Schools' educational mission visit www.ksbe.edu. To learn more about Kahalu'u Ma Kai, visit www.ksbe.edu/kahaluumakai. 
–Submitted by Kau'i N. Burgess, Integrated Strategies Manager, Kamehameha Schools
---
Kona Coffee Growers Enjoying Year's Bumper Crop

By BRET YAGER West Hawaii Today; November 2, 2015
    Heading into the 45th annual festival showcasing their trade, Kona coffee growers have a lot to celebrate.
   Abundant rain and an early and extensive coffee bloom have brought loads of cherry — filling drying platforms and mills with the fragrant product. But the rainfall has also been too much of a good thing, overloading the cherry with moisture, causing some of the fruit to split and drop their beans. And a series of significant flash floods this summer stripped away precious soil from some orchards and smothered others under a layer of silt.
   "There is just a lot more Kona coffee for everyone this year," said Kay Dixon, general manager of Sugai Products.
   Sugai Kona Coffee comprises 88 acres in Holualoa and has roots that go back to the 1890s.
   "The harvest started early and it's going to be very long," Dixon said. "We'll probably be harvesting into January or February, which is atypical."
   A marathon bloom has helped boost Kona's signature crop.
   "This year they started blooming in the first part of January, and we had trees blooming into May and June," Dixon said.The bloom normally runs from February into April, she said.
   A bumper crop can bring a downside. The sheer volume of coffee has pushed down prices somewhat, Dixon said. Sugai processes most of its own product, but the small amount of unprocessed cherry it does sell fetched only $1.80 this year, down from a top price of $2.25 last year, she said.
   And pickers have become a scarce commodity, able to carefully choose which farms they wish to harvest.
   "You have to take care of your pickers. There's sort of a bidding war going on," she said.
   The rainfall helped propagate the fungus that kills the coffee berry borer naturally, Dixon said. However, the pest doesn't appear to be going anywhere.
   "It's here to stay and I don't know how we're ever going to get rid of it," she said.
   Holualoa coffee farmer Bruce Corker said CBB seems to be under control and that this year's crop should be "well above average." More than 52 inches of rain fell in Holualoa in August and September, according to gauges on Corker's farm.
   Some farmers reported having trees uprooted and washed away, with the worst fields even becoming gullies and wastelands of rock and other debris.
   Mary Robblee, a conservation assistant with the Kona Soil and Water Conservation District, visited 14 farms damaged by flooding and heard of impacts that extended beyond the areas she visited.
   Farms with ground cover fared quite well, she said. Where farms practiced "clean culture," or bare soil farming, the water stripped precious soil away, leaving roots exposed and trees vulnerable to die-off.
   "Clean culture is not an effective way to farm here in Kona with the thin soils, steep slopes and heavy afternoon rains," she said.
   The damage wasn't limited to a particular region, but was heaviest along existing waterways, which overflowed from the sheer volume of runoff.
   "There was damage from one end of Kona to the other," Robblee said.
   The flooding has given farmers and property owners a lot to consider when they alter the landscape.
   "What they do for themselves may not be in the best interest of those below them. That's a challenge," said Skip Bittenbender, an extension specialist with the University of Hawaii at Manoa College of Tropical Agriculture and Human Resources.
   "There may need to be more coordination of people when they're working on their farms," said Bittenbender.
   However, rainfall to the tune of up to four inches an hour in August and September led to widespread "sheet flows," where the water volume was so great it was not limited to traditional channels.
   Robblee said it would be logistically intensive and expensive to address flooding even in localized areas, let alone the entire region. The building of sediment basins to absorb runoff would require permitting, land acquisition and other hurdles.
   Even then, benefits would be limited in their reach, and when the truly heavy rains fall, all bets are off, she said.
"It may not rain again like this in our lifetime," Robblee said."Or it might. People want assurance this will never happen again. We can't guarantee that. It will rain, and the water will run downhill."
   Lester Ueda, county executive director at the U.S. Department of Agriculture Farm Service Agency, said that 10 West Hawaii farms reported flood damage during preliminary assessments in early October. But he said reporting is generally low initially as farmers work to solve their own problems.
   Farmers will be able to apply for federal aid through the Emergency Conservation Program from Nov. 1 through Dec. 15, for cleanup and flood damage restoration, Ueda said. Generally more reports surface with the availability of the aid, he said.
   "Some of the farms have a lot of debris," said Ueda. "A lot of farm roads were damaged."
   Kealakekua farmer Maria Da Silva had portions of her coffee fields fill up with rock. Fences were torn down and gullies cut through her farm. Seventy-one trees washed away during a severe downpour in late September.
   "We're just now getting back on our feet, which is good because we still have a lot of coffee on the trees," said Da Silva, owner of Kona Rising Coffee Co. "For some people, it's going to be a great season. The cherry we have had has been great."
  "And it's going to make what's there taste all that much better."
–Submitted by Christine Coleman
---
KCFA Stickers for Your Coffee Bags – Make Your Bags even prettier
To commemorate the significant award that 100% Kona Coffee received in Italy in October, 2010- artist Sharon Carter designed a full color, one inch by one inch stamp-below. 80 stamps to a sheet for just $7.

Show your customers your support of 100% Kona Coffee and your support of the KCFA, affix this Seal below to your bag.
(ed. note) CORRECTION A roll of 1000 for only $50.

How to get them?  Log In with your Member info and then go to the Store- this is just for Members. You will also find high quality Burlap Bags, valuable Grain Pro bags and more. Support KCFA by going to the KCFA Store. AND…Support YOURSELF by updating your Buy Direct from Farmer info.
 –Submitted by Cecelia Smith
---
Disappointing Kona Blend at another Oahu Luxury Resort
 The August edition of the "Independent Voice" carried an article about the Royal Hawaiian Hotel in Waikiki charging $1,000 or more a night but providing 10% Kona blend in its guestrooms.  Here is a letter received from KCFA member Kim Schneider about a similar practice at Oahu's Aulani Disney Resort. 
Thank you, Kim, for sending this information.
>>>>>>>>>>>>>>>>>>>>>>>>>>>>>>>>>>>>
 Aloha Kona Coffee Farmers Association,
 
I just wanted to bring this to your attention as I know you are always working diligently at protecting the name and quality of Kona Coffee. My husband and I recently splurged on a weekend getaway to the Aulani Disney resort on Oahu. The resort was fabulous and they served "Hawaiian" coffee, however, in the rooms for the in room coffee maker were these pods of "Kona Blend". Nowhere on the packaging is there any note of the percentage of Kona coffee in the blend.  It does say that it is "100% specialty grade coffee", which in my opinion is very misleading. The coffee is horrible!  Being a Kona coffee farmer, I was humiliated that the awesome coffee from Kona, in it's name at least, was being put on this terrible tasting coffee. With the amount of visitors that this resort gets, I can only imagine the wrong impression that people receive from drinking this coffee in their rooms, thinking that it is Kona coffee. I'd imagine that Disney would love to hear from the Kona Coffee Farmers Association regarding this matter.
 
Just wanted to bring this to your attention. I was thinking about emailing them about it, but I didn't think an email from one coffee farmer would make a difference, however, if something was sent out to the community and as a whole contacted them, perhaps we can influence them to maybe purchase their coffee from a coffee company in Hawaii vs Florida as this one is, or at least properly label their packaging.  I have the coffee pods from the rooms if you are interested in having them. I attached pictures (here) as well for your reference.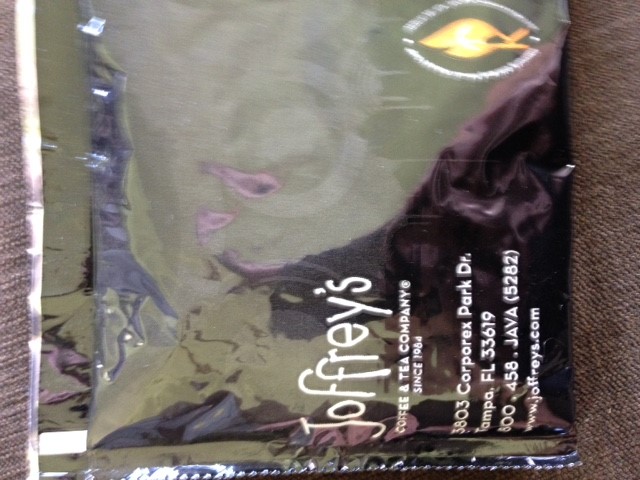 (<<<click to enlarge photos)
 
   Feel free to contact me anytime if you have any questions! 
    Thank you,  Kim Schneider, Kona Chameleon Farm email:  [email protected]
 –Submitted by the Branding Committee
---
Save the Date! 
January 8, 2016 KCFA Annual General Membership Meeting
   A Friday! The Annual General Membership Meeting to elect the Kona Coffee Farmers Association's Board Members and Officers for 2016-2017 and a Superb Potluck to enjoy at beautiful Kahaluu Beach Pavilion from 11-2.
Mark your calendar now and hope to see you there! Lots more info to follow.
---
Truth in Labeling?
   So the Federal Trade Commission warns Walmart about wrongful MADE IN USA labeling:
http://fortune.com/2015/10/20/walmart-made-in-the-usa/?xid=timehp-category
 
   But apparently not in regard of foreign coffee MADE IN HAWAII: 
http://www.amazon.com/gp/product/B004XKROD4?keywords=hawaiian%20isles%20coffee&qid=1445379813&ref_=sr_1_5&sr=8-5
 –Submitted by Joachim Oster
---
Christmas is Coming – Increase your Coffee Sales
   Spruce up your KCFA Farmer Listings for Holiday Buying!
   Go to www.KonaCoffeeFarmers.org, Log in upper right. "Welcome member" page opens. Then scroll down a bit and see in the far right column, the Login "block" with your name?  How about "update your farm info and photos"? Click and go. Make your personal Listing eye catching!  Tell and show people what you have to sell and get it UP TO DATE. Put your label's art work in, instead of our (handsome) KCFA Seal. Tons of coffee are sold from mid-November thru mid-December for gift giving, and you should get in on it. Questions?  Email us at…. [email protected]with questions.
---
Coffee Flour: Rich in Antioxidants and Makes a Pretty Good Cookie
By Bruce Watson, FoodRepublic.com
   As I came out of the subway, I double-checked my directions: Go to the building at 30th and Broadway, sign in, take the second elevator on the right and go to the ninth floor. After five months, a handful of missed connections and scads of e-mails, this was it: I was finally going to taste coffee flour.
   The brainchild of Dan Belliveau, Starbucks' former Director of Technical Services, coffee flour is an elegant solution to an ugly problem. Coffee cherry, the fruit that surrounds a coffee bean, has long been a major pollutant in coffee-producing areas. Some of the cherry can be used for fertilizer, but most of it – more than 10 billion pounds per year – ends up getting dumped in waterways.
   Belliveau's company, aptly named "Coffee Flour," uses a proprietary method to transform coffee cherry into a finely-ground, gluten-free powder that can be swapped out for flour. According to the company, the finished product is high in potassium, iron and protein, and is composed of almost 60 percent fiber, most of which is insoluble. It has 30 milligrams of caffeine per serving (about one-tenth the punch of a Starbucks' grande drip) and about 20 times the antioxidant properties of blueberries. In other words, it's a superfood with a peppy little caffeine zing that helps keep you regular.
   As for how it tastes, well, that's why I was waiting for an elevator at 30th and Broadway.
   I didn't know what to expect from Andrew Fedak, Coffee Flour's co-founder. After all, his cryptic e-mails had led me on a five-month goose chase. When I finally got to his office, though, I immediately realized that he was hardly the mysterious operative I had imagined. With a firm handshake and a broad smile that was slightly reminiscent of Drew Carey, he immediately put me at ease. Of course, the bag of coffee flour chocolate chip cookies in his hand helped. I decided to trust him.
   The cookies were good: crispy, rich and a bit salty, with an underlying flavor that I couldn't quite put my finger on. When Fedak gave me some of the flour, I struggled in vain to pin down its smell. There was a touch of coffee richness, but there were other scents in there, too. Mulch. Tobacco. Fresh hay.
   Unable to resist, I decided to give it a taste, but even then I couldn't quite identify the flavor. It evoked pumpernickel, with a balanced, rounded spiciness and a slightly rich undertone. There were also hints of molasses and, of course, coffee. Before long, I gave up on trying to identify the layers of scent and flavor, choosing instead to just focus on the possibilities, on the myriad dishes that I could try it in. Onion rye bread? Gingerbread? Snickerdoodles? Pan-fried fish?
–Submitted by Anita Kelleher
---
Ripeness and Taste
Interesting farm research on cherry ripeness and the cup.  Some surprising results! 
http://www.huladaddy.com/articles/getting-to-ripe-coffee-at-hula-daddy-kona-coffee.htm?utm_source=October%20%202015&utm_campaign=Ocotober%20%202015&utm_medium=email
 –Submitted by Kally Goschke
---
Recipe: Ham Steaks with Red Eye Gravy
Great for Sunday morning breakfast. Quick and easy.
 You will need 1/2 inch thick ham steaks or slices. Brown the steaks in butter and cover with foil to keep warm
    In the same pan…
 Add 1 1/2 tablespoons shallot or onion minced fine cook 1-2 minutes. Add 1 tsp of flour and cook 30 seconds until light brown. Add 1 1/2 cup chicken broth and 1 teaspoon of brown sugar. Whisk about 3 minutes until reduced somewhat. Add 3 tablespoons 100% Kona coffee and Tabasco to taste. You can add more brown sugar if needed and cook one minute. Drizzle over ham. Serve immediately.
 –Submitted by Anita Kelleher
---
Please Write To Us!
LET US KNOW WHAT YOU THINK! >> Write us. We welcome Letters to the Editor up to 150 words. We reserve the right to edit for clarity.Include your name and email address >> Email: [email protected] with SUBJECT: Commentary.