Hawaii Coffee Crop in Danger
The Kona Coffee Farmers Association has identified an issue that is both of great importance to Hawaii's coffee farmers and appears to be a knowing disregard of federal law by the State of Hawaii.
First, tons of unroasted green coffee beans from other countries with coffee diseases are imported into Hawaii annually to make the so-called "Kona Coffee Blends" that are 10% Kona and 90% foreign coffee.  Honolulu roasters also roast various foreign coffees to sell to visitors.
Federal regulation prohibits the importation of unroasted coffee beans into Hawaii and Puerto Rico.  Period.
Those foreign green beans are legally imported into California and the Pacific NW, where they are fumigated and shipped from West Coast ports to Hawaii.  The fact of their importation first into the mainland does not obviate their threat to Hawaii's coffee crops or the violation of federal regulation against unroasted green beans being imported into Hawaii from any source.
Second, after the hurricane that devastated Puerto Rico in 2017, their coffee trees needed to be replanted, but there was not enough local seed left to grow a sufficient number of trees. The US Government had to approve a request to the government of Costa Rica to allow Costa Rican green beans into Puerto Rico to regrow their devastated crop. The fact that such elaborate arrangements were required suggests that Hawaii has some clandestine agreement with the feds to ignore Hawaii's flagrant violation of the federal law.
Third, Kona got Coffee Bearer Borer (CBB) in 2010, which has reduced our crop, damaged beans, and costs farmers lots of money to spray a fungus to control CBB.  CBB has spread to other Hawaii coffee areas with damaging results.  Coffee rust will be worse.
For the better part of a year members of the KCFA's Legislative Committee have been seeking facts and information from USDA/APHIS and the Hawaii Department of Agriculture concerning this matter.  Despite formal FOIA and UIPA requests to these entities, no information or documents have yet been provided in response.
The Background:
1—Prior to 1998, Hawaii adopted a requirement that unroasted coffee entering Hawaii be fumigated with methyl bromide to lessen risks that coffee pests such as the coffee berry borer be introduced into the State.
2—KCFA members recently became aware of a USDA/APHIS regulation (7 CFR 319.73-2) banning importation of unroasted coffee into the two US regions that grow coffee—Hawaii and Puerto Rico. The regulation was adopted in 1998 and restated in the APHIS publications of 2018.  Here's the link to Seeds Not for Planting, APHIS-USDA 2018.  Look at Table 3-9.
.
https://www.aphis.usda.gov/import_export/plants/manuals/ports/downloads/seeds_not_for_planting.pdf
The regulation states that its purpose is to prevent the spread of coffee berry borer and coffee rust into Hawaii and Puerto Rico.  As a federal law, the regulation preempts and supersedes all inconsistent state or territorial laws, rules or regulations. It is our understanding that, consistent with the regulation, unroasted coffee is not allowed to be imported into Puerto Rico.
3– From a 2005 APHIS environmental assessment — https://www.aphis.usda.gov/plant_health/ea/downloads/unroasted-coffee.pdf  — there is evidence that the State of Hawaii in 2005 (or before) requested a modification of the federal regulation to permit the importation of methyl bromide-fumigated unroasted coffee into Hawaii.
4—Hawaii's request was considered and was not adopted by USDA/APHIS. A 2006 letter from the APHIS/PHP Executive Director advised the Hawaii Department of Agriculture that the HDOA's requested modification of the regulation would not be adopted because of the danger of introduction of "coffee berry borer" and other coffee-related pests and diseases.
5– In violation of the regulation and after denial of Hawaii's request for modification, the State of Hawaii has continued to allow importation of methyl bromide-fumigated unroasted coffee.
6– In 2010, validating the concerns of APHIS scientists, coffee berry borer was discovered to have been introduced into Hawaii. That introduction has had devastating economic impacts on Hawaii coffee farmers in the years since.
7—With continuing importation of methyl bromide-fumigated unroasted coffee into the State, Hawaii's coffee farmers also face the risk—identified by the APHIS scientists—that coffee rust will be introduced here.  The negative economic impact of coffee rust would be even greater than coffee berry borer.
For the Legislative Committee
Submitted by Sandra Scarr
KCFA's October Fest Get Together/Fundraiser

WHEN: Sunday October 13, 2019 from 2 pm until Sunset
WHERE: beautiful Honaunau Rodeo Grounds Pavilion, South Kona
WHY: Fundraiser and Social time for KCFA Farmers and families
Come celebrate the harvest with us! Take a break and join us for October Fest 2019! Socialize with other KCFA members and welcome new members.
Enjoy Beer, Bratwurst, Burgers, Potato Salad, Pretzels and fun! Join in games and learn to Polka
! And don't forget to bring your sense of humor!
Bring a favorite side dish or dessert. This is also a fundraiser for KCFA so a donation of $10.00 to help fund future events would be welcome.
Please RSVP to [email protected] by October 7, 2019. Your help needed and volunteers are welcome! Mahalo!
Submitted by Kay Dixon
OriGIn Int'l Action Update
As a long-term and well respected member of oriGIn, while KCFA is not represented in person at the current bi-annual membership meeting in Tbilisi, Georgia (read about here: https://www.origin-gi.com/images/stories/PDFs/English/Event/23_09_19_BiannualMeetingTbilisi/PressReleaseTbilisi1.pdf), it is so good to work with the other products so similar to Kona coffee and how they are being recognized and protected worldwide.
Fellow Board member of American Origin Products Association (AOPA) — Treasurer, Isaura Andaluz of New Mexico Chiles — was able to go to Georgia to attend the meeting, and the updated relevant information will be presented via near future updates to the AOPA website at http://www.aop-us.org.  The national efforts to seek recognition and support continue with KCFA as an important player.  For this reason Ms. Andaluz brought with her to Georgia a donation from my farm of Kona coffee used in a baked product to share with other attendees at the meeting.  The oriGIn meeting will include continued recognition of an AOPA member to serve as the North American Vice President of oriGIn, as has been the case over the past six years by yours truly.
Submitted by Colehour Bondera
Volunteers & Coffee Needed: Coffee & Art Stroll
On what promises to be a beautiful day on November 2nd, the Kona Coffee Farmers Association will be participating in the 21st annual Holualoa Coffee and Art Stroll.  We will be there all day, selling merchandise from the Association's stocks and representing all coffee farmers to the visitors to the event.  We need two things.
First, to staff the booth all day, we will need about six volunteers in two shifts.  Mahalo to Barbara and Franz and Julia who have already volunteered!  We need folks to help with the booth and also with the parking situation in Holualoa, as part of participating in the event.  Please send an email to j[email protected] to volunteer.  And we thank you for your help.
Secondly, we want to promote some farm's coffee by having a big pot of the coffee perking away and offering small cups of it to all takers.  If your farm is not going to be represented by a booth in the Stroll, this is a way to get your image in front of the crowd without having to be there all day yourself.  I estimate we will need about 5 pounds of coffee for the day.  I can grind the coffee if you get it to me before the event.  And many thanks for helping our booth!
Please volunteer some of your time for the Association and thanks to some lucky farm for offering some coffee.
Submitted by Jim Monk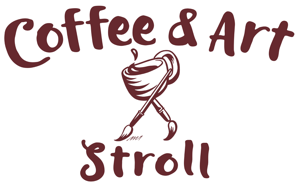 Farmers & Ranchers for a Green New Deal
I'd like to invite my fellow members to join "Farmers and Ranchers for a Green New Deal".  I signed the petition and am very glad I joined this highly informative and pro-active group.  I've already benefited from learning some important information and getting the feeling that I'm not alone.
The GNG-ag listserv is for Farmers and Ranchers that have signed the Farmers and Ranchers For a Green New Deal letter to congress. If you know of any farmers or ranchers that you think would be interested in this listserv, please direct them to sign the letter: https://us.netdonor.net/page/9832/petition/1?ea.tracking.id=frgndlistserv
Once signed on to the letter, they will be added to the listserv and will be considered members of the Farmers and Ranchers for a Green New Deal coalition. Follow this link to read the policy goals and FAQs.Text goes here. Insert any pictures and align them to the right.
Submitted by <het Gardiner
Seattle Reclaims Title of Nation's #1 Coffee City
Last January Seattle coffee enthusiasts were stunned when survey was published placing Seattle as #4 on a list of "best cities for coffee lovers".  A newspaper article about the survey began with "Outrageous!" in bold print.  Some Seattle coffee purveyors directed their ire toward San Francisco which was rated higher in the survey.  One observed, "If you are the type that needs a critic to tell you what you like, go to San Francisco and drink that acid coffee. In Seattle, we have people who make up their own minds."
Pride has, however, returned to Seattle with a more recently published survey that has placed Seattle back on top as the best city in the nation for coffee appreciators.  The new survey was put together by the financial firm WalletHub and used an interesting set of criteria for its rankings– the price of coffee; how much a household spends on java; the percentage of adult coffee drinkers; the share of households that own a coffee maker; the number and density of affordable, four-star coffee shops; coffee manufacturers per capita; as well as the number of times people searched for "coffee" on Google.  One Seattle coffee representative noted with satisfaction, "We are the home of espresso in America with Starbucks and (Espresso) Vivace. The hallmarks of the specialty coffee movement originated here, and some of the best coffees in the world came to Seattle first."
This sort of attention focused on gourmet coffee, is great to see.  To read the Seattle Times article on the new survey results, go to https://www.seattletimes.com/seattle-news/seattle-is-back-on-top-were-ranked-the-no-1-coffee-city-in-the-country/Text goes here. Insert any pictures and align them to the right.
Submitted by Bruce Corker
2020 KCFA EXPO
We are pleased to announce that the Expo Committee is actively engaged in the initial planning stages for the 2020 Kona Coffee and Small Farm Expo.
Date has been finalized for Sunday, May 10 at the location of Honaunau Rodeo Grounds, in South Kona.
We will greatly appreciate your participation in our next installment of one of our favorite events.
There will soon be a chance for all of you to weigh in by participating in an on-line survey that will help us put together an Expo that can more effectively serve your needs as small farmers on Hawai'i Island.
And we'll have fun.
Keep your eye on your inbox for the survey link.
Submitted by KCFA EXPO Committee
Americans Spend an Average $1092/year on Coffee
That Is Close To The Price Of The Newest iPhone.
By SouthFloridaReporter.com – Sep 28, 2019
https://southfloridareporter.com/americans-spend-an-average-1092-a-year-on-coffee-that-is-close-to-the-price-of-the-newest-iphone/
National Coffee Day was celebrated on September 29th.!
Ah, the perfect cup of java.  According to an expert cupper (a professional coffee taster), there are four components of a perfect cup: aroma, body, acidity, and flavor.
However, the earliest credible evidence of either coffee drinking or the knowledge of the coffee tree appears in the middle of the 15th century in the Sufi monasteries around Mokha in Yemen.
Here, monks first roasted coffee seeds and brewed coffee, much like we prepare them today. Yemeni traders brought coffee back to their homeland from Ethiopia and began to cultivate the seed.
In 1670, Baba Budan smuggled coffee seeds out of the Middle East by strapping seven seeds onto his chest. The first plants grown from these stowed away seeds were planted in Mysore. Coffee later spread to Italy and the rest of Europe, Indonesia, and the Americas.
While Brazil produces more coffee in the world than any other country, Colombia closely follows. Also, more than 50 countries around the world grow coffee, too. As a result, we choose from a bountiful selection of flavors for the indulgence of steamy cups of the black drink for connoisseurs to consume.
Legend has it that Ethiopian shepherds first noticed the effects of caffeine when they saw their goats appearing to become "frisky" and "dance" after eating coffee berries.
Originally coffee was eaten. African tribes combined coffee berries with fat to create energy balls.
Coffee beans are actually the pit of a berry, which makes them a fruit.
Coffee is the second most traded commodity in the world. (oil is first)
There are two types of coffee beans: Arabica and Robusta. Seventy percent of coffee beans are Arabica. Although less popular, Robusta is slightly more bitter and has twice as much caffeine.
Kona coffee is the United States' gift to the coffee world. Because coffee traditionally grows best in climates along the equator, Hawaii's weather is optimal for harvesting beans.
Submitted by Cecelia Smith
Coffee Photo Posters for Sale
Through the generosity of professional photographer Gregory Clark, the Kona Coffee Farmers Association was given beautifully photographed coffee photos which were printed onto heavy art paper measuring 24 inches X 36 inches and suitable for framing. Each has been rolled into a sturdy cardboard tube and is available for pick up, at monthly KCFA Board meetings after making arrangements—- or each can be mailed First Class (additional $6.45) with tracking numbers. Rare gifts for the Kona Coffee lover and only $14.99 each.
From photographer Gregory Clark: I am a specialty coffee photographer who has been associated with the coffee industry since 1992.  My full-color lithographs have appeared in most industry periodicals over the years, and I created a line of art posters depicting the growing, processing, and serving of Kona coffee.
This month we are featuring: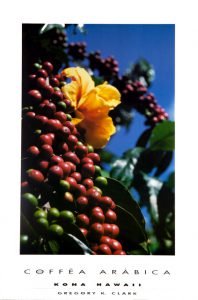 Sell Your Coffee at the Hawaii Pavilion at FOODEX Japan
HDOA is accepting booth applications for FOODEX 2020, the largest food and beverage trade show in Asia, scheduled for March 10-13, 2020 in Makuhari, Japan. The show attracts more than 80,000 food industry professionals from across Asia. Don't miss this great opportunity to expand your export sales in Japan and beyond.
Please submit the online booth application form to express your intention to participate. The marketing team will contact you with the booth space and participation fee.
The deadline for submission of the form for FOODEX is November 30, however, we encourage first-time exhibitors to apply ASAP for a consultation.
Please click here for online booth application.
Please click here to view Trade Shows & Events section.
For questions, please contact Yukashi Smith, 808-973-9627, [email protected]