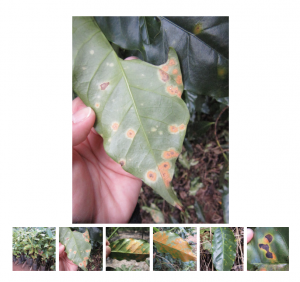 The dreaded moment has arrived. Coffee Leaf Rust (CLR) has arrived to our islands. At this time, it's been found in multiple coffee farms and feral gulches across Maui. It has been spotted in Hilo here on the Big Island. Now is the time to educate yourself on what the distinctive orange spores look like.
Andrea Kawabata has some excellent pictures here. https://www.hawaiicoffeeed.com/coffee-leaf-rust—nko.html
Our knowledge on the Maui/Hilo situation is rapidly evolving. It's so early in the process that we don't even know which strain of CLR it is. However, we learned some lessons from CBB and our friends at HDOA, CTAHR, and PBARC have been quick to bring in their expertise as well as voices from other coffee regions. It's been less than a week, so the response plan is still evolving. The Maui infection is so large (estimated at 25 square miles) that it's not known whether it can be eradicated. Surveys are ongoing to quantify the spread. At the same time, surveys have begun in Kona as well (your eyes are best though, so check your own trees). With some luck, we hope to have a window here to prepare our Kona farms for the likely appearance.
As we wait for more information, it's good to take this time to read up on CLR. Our Typica trees have no resistance to CLR, but healthy trees withstand the infection better. Fertilization and soil health are important. Thanks to industry pre-planning, we already have an arsenal of fungicides (organic and otherwise) that are approved for use in Hawaii coffee. Some of the most effective are copper-based products (Kocide, Camp) that cause soil toxicity with heavy use so we must use them minimally or risk losing our trees outright. Others are gentler, such as Rampart (phosphate), and two are bacillus biopesticides, Serenade and Double Nickel. Read more about that here. https://perfectdailygrind.com/2019/05/using-fungicides-to-treat-coffee-leaf-rust/.
When CBB arrived, we were complacent and behind the curve. With CLR we are right at the curve, not ahead, but not behind either. We've already adapted to foliar sprays and new processes. There will be a lot of information coming our way soon. Management programs and new IPMs, spray timing and new research. For now, breathe. Check out your trees. And get ready for more change.
submitted by Suzanne Shriner, for SHAC & as KCFA representative to HCA